RAM Mount
Locking Vehicle dock Samsung Galaxy Tab S4 10.5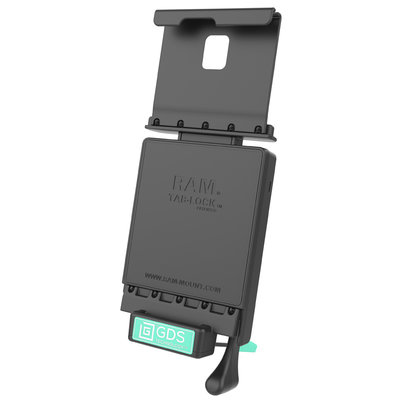 RAM-GDS-DOCKL-V2-SAM41U
€159,95
€132,19 Excl. btw
Beschikbaarheid:

Niet op voorraad

Levertijd:

Binnenkort leverbaar, registeer voor notificatie
Composiet actieve antidiefstal klemhouder GDS Intelliskin. ...
Meer informatie
Product omschrijving
Merk:

RAM Mount

Artikelnummer:

RAM-GDS-DOCKL-V2-SAM41U

Beschikbaarheid:

Niet op voorraad

Levertijd:

Binnenkort leverbaar, registeer voor notificatie
Tablet klemveerhouder met ingebouwde docking compatibel met de Locking Vehicle dock Samsung Galaxy Tab S4 10.5 case met Intelliskin. Hierdoor is opladen en verbinden makkelijker geworden. De tablethouder heeft een ingebouwd cilinderslot en spring-load release knop voor makkelijke verwijdering tablet.
De dock klemhouder kan met RAM-B-202U kogel op (bestaande) RAM mount systemen gemonteerd worden.


The GDS® Locking Vehicle Dock is a spring-loaded, quick-release cradle with a keyed lock that offers a secure fit with easy access to the mounted tablet. This docking station is compatible with the Samsung Galaxy S4 10.5" with IntelliSkin®, and includes a USB Type-C bottom cup. The integrated GDS® platform enables data sync and charging capabilities.* Without the need to remove the IntelliSkin® sleeve from the device, users can quickly and efficiently mount the tablet in the vehicle dock while keeping the device charged and locked in place. This dock is designed to meet the demands of field workers in a variety of applications, including transportation, field sales, logistics, manufacturing, and much more.

*The RAM-GDS-CHARGE-V7-USBCU hardwire charger is compatible with this vehicle dock, but does not support USB Type-C power delivery.

Compatible Devices:
Samsung Galaxy Tab S4 10.5" with IntelliSkin®
SM-T830, SM-T835 AND SM-T837

Features:
1. RAM® is setting a new standard by creating a uniform platform for making connection between any electronic device and a dock for power and data communication.
2. This provides compatibility across multiple devices, making power and data communication simple and cost effective.
3. GDS™ Technology offers a universal charging platform for any device wrapped in IntelliSkin™.
4. Connect to High Definition Video through a Slimport, MHL, or device specific HD video adapter.
5. Enhance your device by connection to Ethernet via USB.
6. Project your device's audio to an external speaker system or recording device seamlessly, and without directly plugging any cables into your device.

Material:
High Strength Composite

Wordt inclusief laad/connection kabel geleverd.