RAM Mount
Balancerende drankhouder XL- Level Cup™ XL met Track-ball RAM-B-417B-C-354-TRA1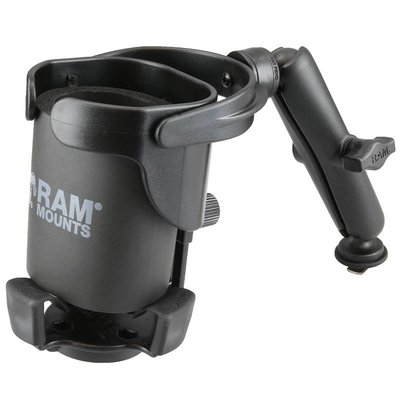 RAM-B-417B-C-354-TRA1
Beschikbaarheid:

Op voorraad

Levertijd:

Besteld op werkdag voor 15:30, volgende dag geleverd
Balancerende drankhouder XL- Level Cup™ XL met Track-ball ...
Meer informatie
Product omschrijving
Merk:

RAM Mount

Artikelnummer:

RAM-B-417B-C-354-TRA1

Beschikbaarheid:

Op voorraad

Levertijd:

Besteld op werkdag voor 15:30, volgende dag geleverd
De RAM Mount zelf-balancerende Level Cup XL is ontworpen voor grotere geisoleerde bekers, plastic waterflessen en grote RVS koffiemokken. De Level Cup XL zorgt dat u drankje rechtop blijft, ongeacht de bewegende omstandigheden!
De bovenzijde van de houder is geschikt voor de grotere bekers en flessen, de in hoogte instelbare bodem maakt aanpassingen aan de hoogte mogelijk. In de bodem zitten rubberen flex-voetjes die het verschil in diameter opvangen en zorgen dat uw drankje veilig geklemd zit.
Specificaties drankhouder
Breedte range: 6.6- 8.9 cm diameter
Hoogte range: 9.5- 28 cm
Inclusief foam dranken isolatie hoes
Dit artikel is uitgerust
met een Track-ball (RAP-B-354U: T-bolt afmetingen 12 x 24 mm) geschikt voor montage op RAM Mount Tough-Tracks.

Designed for bigger insulated cups, plastic water bottles or even your reliable steel coffee cup, the Level Cup XL™ keeps your drink upright, regardless of the conditions. This kit includes a long arm and a Track Ball™ base that accommodates virtually any track system including the RAM Tough-Track™ system. The oversized opening cradles the biggest of gulps and the adjustable bottom piece moves up and down to accommodate taller cups. The rubber feet flex to fit various sized cups as well. RAM® Mounts has refined the self-leveling action to keep your cups full.