RAM Mount
GDS® Docking Cup voor Tablet Vehicle Docks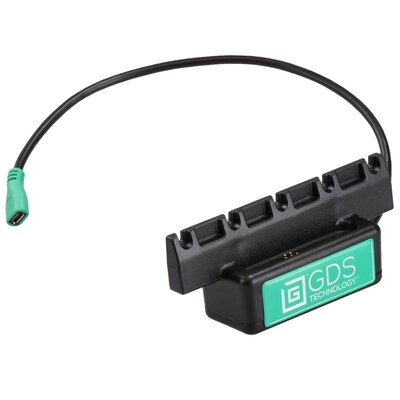 RAM-GDS-DOCK-V3BU
Beschikbaarheid:

Op voorraad
GDS® Docking Cup voor Tablet Vehicle Docks RAM-GDS-DOCK-V3BU ...
Meer informatie
Product omschrijving
Merk:

RAM Mount

Artikelnummer:

RAM-GDS-DOCK-V3BU

Beschikbaarheid:

Op voorraad
Vervangingsonderdeel; Losse laaddock voor Intelliskin systeem. Wordt onderop Tab-tite tablethouder gemonteerd en werkt alleen samen met juiste Intelliskin skin en topcup. Aansluiting is Micro-USB female.
The GDS® Docking Cup will connect to any GDS® vehicle dock for tablets with IntelliSkin®. When paired with the proper top cup, this docking cup can be used to upgrade your existing Tab-Tite™ or Tab-Lock™ holder.

The integrated GDS Technology™ platform enables data and charging capabilities to the mounted tablet. Without the need to remove the IntelliSkin from the device, the user can quickly and efficiently mount the device in the vehicle dock and keep the device charged.
Specifications:
• Max power 5V-12V @ 2A*

Features:
1. RAM® is setting a new standard by creating a uniform platform for making connection between any electronic device and a dock for power and data communication.
2. This provides compatibility across multiple devices, making power and data communication simple and cost effective.
3. GDS Technology™ offers a universal charging platform for any device wrapped in IntelliSkin®.
4. Connect to High Definition Video through a Slimport, MHL, or device specific HD video adapter.
5. Enhance your device by connection to Ethernet via USB.
6. Project your device's audio to an external speaker system or recording device seamlessly, and without directly plugging any cables into your device.

Material:
High Strength Composite