RAM Mount
GoPro stuurstangmontage set - RAM-B-149Z-GOP1U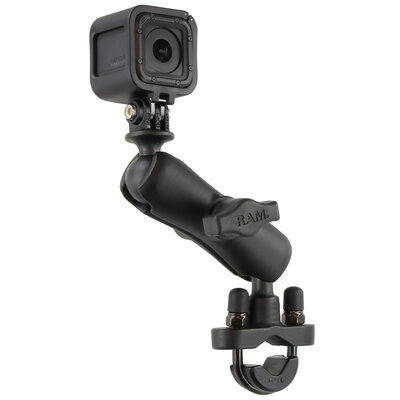 RAM-B-149Z-A-GOP1U
Beschikbaarheid:

Op voorraad

Levertijd:

Besteld op werkdag voor 15:30, volgende dag geleverd
Product omschrijving
Merk:

RAM Mount

EAN:

0793442936616

Artikelnummer:

RAM-B-149Z-A-GOP1U

Beschikbaarheid:

Op voorraad

Levertijd:

Besteld op werkdag voor 15:30, volgende dag geleverd
Complete set om de GoPro camera aan stuurstang van fiets of motor te bevestigen. Compleet met B-kogel met koppeling aan de GoPro adapter. Vervangt de meegeleverde adapter.

The RAM-B-149Z-A-GOP1U consists of a zinc coated u-bolt base, SHORT size double socket arm and 1" diameter ball with custom GoPro® Hero adapter. The mount is designed with a RAM 1" diameter patented rubber ball and socket system that has adjustment points at both ends of the double socket arm; this allowing for almost infinite adjustment and perfect viewing angles. Included in this package is hardware that will accommodate rails from 0.50" to 1.25" (1.3 tot 3.2 cm) in diameter. The base includes black cover caps to be placed over the exposed ends of the u-bolt. The included composite rail adapter can narrow the rail to a minimum width of 0.5".

The GoPro® Hero adapter attaches directly to the under-side of the camera, replacing the factory mounting bracket.

Compatible GoPro® Cameras:
HD HERO
HD HERO2
HD HERO3
HD HERO4
HD HERO 960

U-Bolt Dimensions:
Accommodates rails from 0.5" to 1.25" in diameter (1.3 tot 3.2 cm)

Material:
High Strength Composite & Powder Coated Marine Grade Aluminum

Ball Size:
1" Rubber Ball "B" Size

Medium klemarm RAM-B-201U (10 cm)

NB: GoPro Hero en GoPro behuizing niet inbegrepen.