Havis
Universal Laptop Mount UT-1001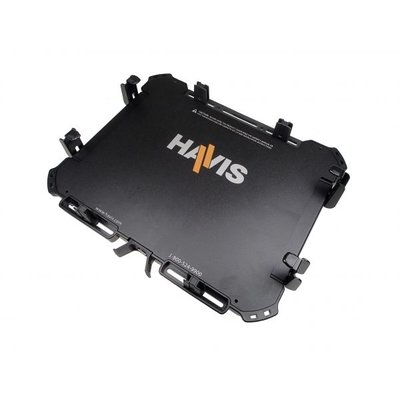 UT-1001
€399,00
€329,75 Excl. btw
Beschikbaarheid:

Niet op voorraad

Levertijd:

Alleen op bestelling leverbaar.
Product omschrijving
Merk:

Havis

Artikelnummer:

UT-1001

Beschikbaarheid:

Niet op voorraad

Levertijd:

Alleen op bestelling leverbaar.
Zware kwaliteit universele laptop houder ( 11.43 - 14.23 inch)met slot van het merk Havis (USA). Quick Release voor snel in- en uitnemen van de laptop, slot ontgrendeling waarna zijkanten weg veren. Lichtgewicht aluminium and composiet constructie met zeer nauwkeurige instel mogelijkheden.
Havis universal laptop mount
Non-electronic tray adjustable to fit and secure a large variety of laptop models
Easy to use and customize to fit your computing needs
Two sets of hold-down lugs provided to accommodate a wide range of laptop heights
Thin profile maximizes space inside your mobile workplace
Integrated mounting points for the addition of power supplies and rugged communication hub
Strain relief holes provided to allow for safe and secure connectivity of peripherals
Rounded corners and edges are ideal for your safety in accidents and airbag deployment, in addition to daily use and operation of universal laptop mount.
Easy to use latch handle makes certain your computer is safe and secure inside your vehicle.
Lock and key supplied for peace of mind theft deterrence.
The UT-101 is compatible with most of the laptops
currently on the market, including Panasonic, DELL,
Lenovo, IBM, Hewlett-Packard and Toshiba.


Product Specifications:
Compatible computer sizes: width: 11.472" (29.1 cm) to 14.192" (36.1 cm), height: 9.250" (23.5 cm) to 11.000" (27.9 cm), depth: 0.665" (1.7 cm) to 1.265" (3.2 cm)
Testing & certifications:Â  RoHS, crash tested up to 30 mph
VESA hole pattern for standardized mounting and easier installation
Product dimensions: width: 13.47" (34.21cm), height: 11.3" (28.70cm), depth: 2.14" (5.43cm)
Product weight: 3.72 lbs. (1.69 kg)
Gross Weight: 7.50 lbs



Dit artikel wordt op bestelling ingekocht direct bij de fabriek in de USA.
Havis Inc is een beursgenoteerd, ISO 9001:2008 gecertificeerd bedrijf dat in-vehicle  mobile office oplossingen voor openbare veiligheid, openbare werken, overheden en mobiele professionals produceert.
Havis heeft ook laptop specifieke (actieve en passieve) mounts:
Panasonic Toughbook
Dell Latitude
Getac V100 en V200
General Dynamics GD8000 en GD4000


Informeer naar de mogelijkheden.