RAM Mount
Montageset Lowrance Fishfinder Hook² Series C-Kogel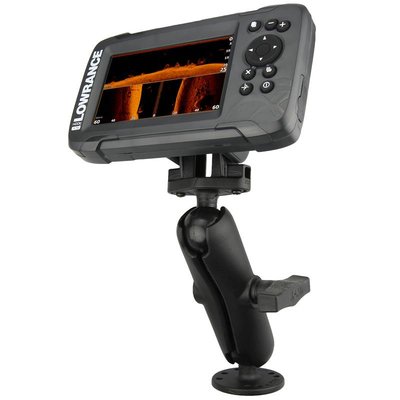 RAM-101-LO12
Beschikbaarheid:

Op voorraad

Levertijd:

Besteld op werkdag voor 15:30, volgende dag geleverd
Montageset heavy-duty met Quick Release B-Kogel voor Lowrance RAM-101-LO12 ...
Meer informatie
Product omschrijving
Merk:

RAM Mount

Artikelnummer:

RAM-101-LO12

Beschikbaarheid:

Op voorraad

Levertijd:

Besteld op werkdag voor 15:30, volgende dag geleverd
C-Kogel heavy-duty set met RAM Quick Release Adapter with 1.5" Diameter Ball for "RUGGED USE" Lowrance Elite-5 & Mark-5 Series Fishfinders

Designed for heavy duty salt water use, this C size (1.5") composite drill-down kit for the Lowrance Hook² allows users to swap out the factory mounting solution with a RAM® Mounts solution. Simply attach the included adapter to the Lowrance Hook² and you're ready to connect the double socket arm and round base featuring the AMPS hole pattern. Made of high strength composite and powder coated marine grade aluminum, this kit is designed to keep your Hook² secure and stable in rugged environments on your boat, kayak or inflatable.


Compatible Devices:

Lowrance HOOK2-4x
Lowrance HOOK2-5

Material:
Powder Coated Marine Grade Aluminum

Ball Size:
1.5" Rubber Ball Size

Emounting verkoopt alleen mounts, de afgebeelde hardware is ter illustratie en wordt niet meegeleverd.