RAM Mount
iPad AIR/ iPad 2017 Yoke schroefklem iPadhouder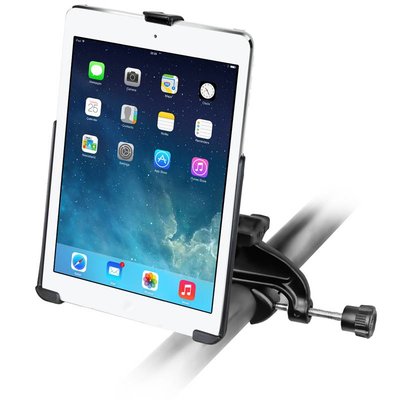 RAM-B-121-AP17U
Beschikbaarheid:

Op voorraad

Levertijd:

Besteld op werkdag voor 15:30, volgende dag geleverd
Schroefklem en iPad Slide-in Cradle b.v.Vliegtuig en machines ...
Meer informatie
Product omschrijving
Merk:

RAM Mount

Artikelnummer:

RAM-B-121-AP17U

Beschikbaarheid:

Op voorraad

Levertijd:

Besteld op werkdag voor 15:30, volgende dag geleverd
Complete set voor bevestiging met schroefklem van iPad AIR aan stuurstang. Toepassingen in vliegtuig of aan andere stang van b.v. heftruck, motor of machines. Dankzij het kogelsysteem is de instelling zeer flexibel en snel instelbaar. De rubberen kogels zorgen daarnaast voor demping van trillingen.
The iPad Yoke Mount, by RAM, is for pilots who want to use their iPad on the yoke of their airplane. By securing the mounting arm over or under the yoke (depending on your specific requirements), you can position the iPad as you wish. The mount is portable and can easily fit in your flight bag or can be positioned and left on-board. Perfect for owners and renters alike.
Deze set bestaat uit:
1. Ram houder voor stang montage
RAM-B-121-202U: gepoedercoat aluminium schroefklem (yoke clamp) met vaste rubberen B-kogel. voor stuurstangen tussen 1.6 en 3.2 cm diameter  The 1" rubber ball is at a right angle to the plane of the mount so when connected to a rail, the ball sits parallel to the rail. 
RAM-B-201U: Double socket arm voor B-kogel. Maximaal flexibel en snel instelbaar. Gepoedercoat aluminium
RAM-B-202U: B-kogel voor montage aan iPadhouder

RAM-HOL-AP17U Slide-in houder iPad Air zonder hoes
The RAM-HOL-AP17U consists of a high strength composite cradle and patent pending roller design. The patent pending roller design allows for smooth placement and removal of the iPad, while keeping it secure while on the go. Compatible and interchangeable with a wide range of popular RAM Mounting products, this cradle is ready to compliment your iPad and become the most useful accessory in your vehicle.

Compatible Devices (WITHOUT CASE):
Apple iPad Air
Apple iPad Air 2
Apple iPad Pro 9.7
Apple iPad 2017 (5th Generation)
Apple iPad 2018 (6th Generation)

Specifications:
Docking Cradle: No
Locking Cradle: No
Fit's Tablet's WITH Cases: No
Fit's Tablet's WITHOUT Cases: Yes
Low Vibration Environment: Yes
High Vibration Environment: Yes