RAM Mount
iPad AIR/ iPad 2017 stangbevestiging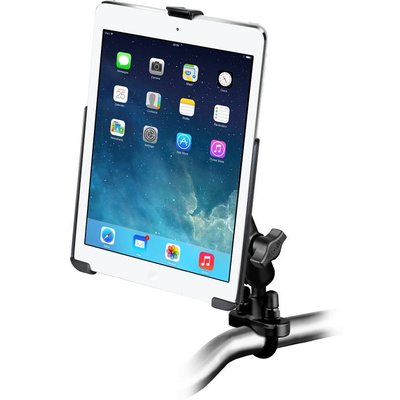 RAM-B-149-AP17U
Beschikbaarheid:

Op voorraad

Levertijd:

Besteld op werkdag voor 15:30, volgende dag geleverd
Flexibele stangbevestiging en iPad AIR Slide-in Cradle AP17U ...
Meer informatie
Product omschrijving
Merk:

RAM Mount

Artikelnummer:

RAM-B-149-AP17U

Beschikbaarheid:

Op voorraad

Levertijd:

Besteld op werkdag voor 15:30, volgende dag geleverd
Flexibele stangbevestiging en iPad Slide-in Cradle RAM-HOL-AP17U voor fiets, rolstoel of golfcart.


Complete set voor bevestiging van iPad AIR of iPad AIR2 aan stuurstang. Toepassingen op fiets, hometrainer, rolstoel, motor of b.v. golfcart. Dankzij het kogelsysteem is de instelling zeer flexibel en snel instelbaar. De rubberen kogels zorgen daarnaast voor demping van trillingen.
The RAM-B-149-AP17U consists of a stainless steel coated u-bolt base, double socket arm and non-locking cradle for the Apple iPad & iPad 2. Designed into the mount is a 1" diameter patented rubber ball and socket system with adjustment points at the base and cradle. With a twist of the arm knob, you can move the iPad rail mount to your optimum viewing position. Included in this package is hardware that will accommodate rails from 0.50" to 1.25" in diameter. 
Deze set bestaat uit:


1. Ram houder voor stuurstang montage
RAM-B-231U: rVS U-beugel met rubberen B-kogel. voor stuurstangen tussen 1.3 en 2.5 cm diameter incl. rubberen beschermdopjes voor schroefdraad uiteinden
RAM-B-201U: Double socket arm voor B-kogel. Maximaal flexibel en snel instelbaar. Gepoedercoat aluminium
RAM-B-202U: B-kogel voor montage aan iPadhouder
1x RAM-HOL-AP17U Slide-in houder iPad Air zonder hoes
The RAM-HOL-AP17U consists of a high strength composite cradle and patent pending roller design. The patent pending roller design allows for smooth placement and removal of the iPad, while keeping it secure while on the go. Compatible and interchangeable with a wide range of popular RAM Mounting products, this cradle is ready to compliment your iPad and become the most useful accessory in your vehicle.
Compatible Devices (WITHOUT CASE):
Apple iPad Air
Apple iPad Air 2
Apple iPad Pro 9.7
Apple iPad 2017 (5th Generation)
Apple iPad (6th Generation)
Specifications:
Docking Cradle: No
Locking Cradle: No
Fit's Tablet's WITH Cases: No
Fit's Tablet's WITHOUT Cases: Yes
Low Vibration Environment: Yes
High Vibration Environment: Yes
Cradle Features:
1. Compatible with various iPad cable/docking accessories
2. Patent pending roller design for super smooth placement and removal of the iPad
3. High strength materials maximize longevity of cradle
4. Full access to all ports
5. Lifetime warranty
6. Made in U.S.A.
Bekijk ook onze overige tablethouders voor de fiets.
Product bundles with iPad AIR/ iPad 2017 stangbevestiging
Anti-diefstalknop
3% Korting
€81,90
€79,41 Incl. btw
Niet op voorraad