RAM Mount
Dual Articulating Suction Cup Base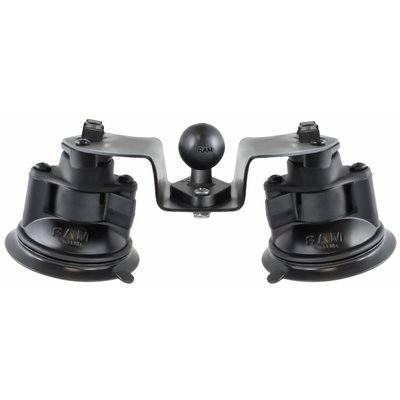 RAM-B-189B-PIV1U
Beschikbaarheid:

Op voorraad

Levertijd:

Besteld op werkdag voor 15:30, volgende dag geleverd
Dubbele zuignap voor gebogen oppervlakte RAM-B-189B-PIV1U ...
Meer informatie
Product omschrijving
Merk:

RAM Mount

Artikelnummer:

RAM-B-189B-PIV1U

Beschikbaarheid:

Op voorraad

Levertijd:

Besteld op werkdag voor 15:30, volgende dag geleverd
Dubbele Twistlock zuignap met metalen baseplate. Dankzij de vernuftige constructie is de hoek van de zuignappen aan te passen aan gebogen voorruit of ander oppervlaktes. Compleet met B-Kogel RAM-B-238U.
RAM® Suction Cups are regarded as one of the most impressive suction cups in the world. Their incredible holding power is surprising when considering how most suction cups function. When two suction cups are used together the performance is amazing. The RAM® Dual Articulating Suction Cup is an amazing innovation in suction cup mounting. With the ability to independently articulate each suction cup, this mounting base can be used in a variety of applications such as curved windows and surfaces. Whether you are mounting to a curved surface on a vehicle, or a curved windshield, this product is the ideal solution for secure suction cup mounting.

Features:
1. Customize mounting position for convex and concave surfaces by repositioning suction cup bases
2. Dual suction cups provide extra strength and stability for devices up to 5 lbs.
3. Commercial grade product for unparalleled performance
4. Dual suction cups for redundancy
5. High strength materials maximize longevity of the mount
6. Ball and socket mounting system offers ease of adjustment product adjustment
7. Lifetime warranty
8. Made in U.S.A.

Material:
High Strength Composite & Powder Coated Marine Grade Aluminum

Ball Size:
1" Rubber Ball "B" Size


Quick and Easy Installation
Step 1:
Locate and attach both suction cups to a clean non-porous surface.
Step 2:Turn both latches to seal the suction cup bases to the mounting surface.
Step 3:Turn both knobs to secure the mounting plate to the suction cups.