RAM Mount
Houder Apple iPhone 6/7 Plus RAM-HOL-AP19U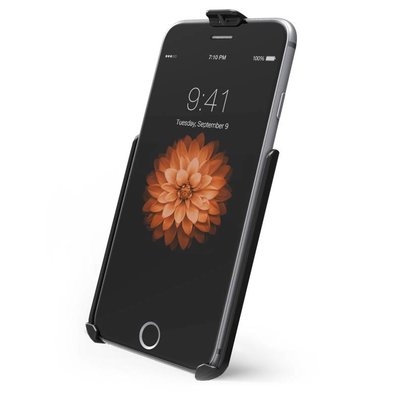 RAM-HOL-AP19U
Beschikbaarheid:

Op voorraad

Levertijd:

Besteld op werkdag voor 15:30, volgende dag geleverd
Product omschrijving
Merk:

RAM Mount

EAN:

0793442946448

Artikelnummer:

RAM-HOL-AP19U

Beschikbaarheid:

Op voorraad

Levertijd:

Besteld op werkdag voor 15:30, volgende dag geleverd
Composiet slide-in houder voor Apple iPhone 6/7 Plus. Alleen voor iPhone gebruik zonder beschermhoes. iPhone zit strak in de houder en wordt vergrendeld tegenuitvallen. Daarvoor is de houder ook geschikt voor (motor) fiets.
Dit alleen de houder
.
Zie voor bevestiging onze sets.
Voor de bevestiging aan bestaande RAM Mounts is een RAM (RAP-B-238u kogel nodig (zie hieronder)
.

The RAM-HOL-AP19U consists of a high strength composite cradle and hole pattern that will allow the attachment to all RAM components or mounts that contain the universal AMPs hole pattern. Compatible and interchangeable with a wide range of popular RAM Mounting products, this cradle is ready to compliment your iPhone 6 Plus and become the most useful accessory in your vehicle.


Compatible Devices:
Apple iPhone 6/7 Plus WITHOUT CASE, SKIN OR SLEEVE
Alternative Cradles:
Click here, to view X-Grip™ cradle for the Apple iPhone 6/7 Plus WITH CASE, SKIN OR SLEEVE.
Features:
1. High strength materials ensure product longevity
2. Full access to all ports
3. Lifetime warranty
4. Made in the U.S.A.
Material:
High Strength Composite
The RAM-HOL-AP19U consists of a high strength composite cradle and hole pattern that will allow the attachment to all RAM components or mounts that contain the universal AMPs hole pattern. Compatible and interchangeable with a wide range of popular RAM Mounting products, this cradle is ready to compliment your iPhone 6 Plus and become the most useful accessory in your vehicle.

Compatible Devices:
Apple iPhone 6 Plus WITHOUT CASE, SKIN OR SLEEVE

Alternative Cradles:
Click here, to view X-Grip™ cradle for the Apple iPhone 6 Plus WITH CASE, SKIN OR SLEEVE.

Features:
1. High strength materials ensure product longevity
2. Full access to all ports
3. Lifetime warranty
4. Made in the U.S.A.

Material:
High Strength Composite



Product bundles with Houder Apple iPhone 6/7 Plus RAM-HOL-AP19U