RAM Mount
Houder Garmin Nuvi 65,66,67, 68 GA67 6" scherm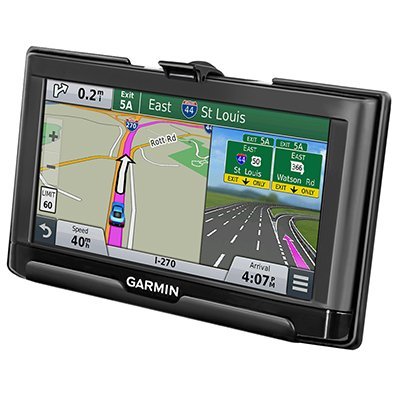 RAM-HOL-GA67
Beschikbaarheid:

Op voorraad

Levertijd:

Besteld op werkdag voor 15:30, volgende dag geleverd
Product omschrijving
Merk:

RAM Mount

Artikelnummer:

RAM-HOL-GA67

Beschikbaarheid:

Op voorraad

Levertijd:

Besteld op werkdag voor 15:30, volgende dag geleverd
Maatwerk houder voor Garmin GPS. Voor montage aan RAM componenten is min RAM-B-238U of RAP-B-238U kogel nodig.

This RAM high strength composite cradle is designed to hold the following devices:
This holder is suitable for use with Nuvi models 65, 66, 67 & 68, all LM & LMT units.


Features:
1. Open access to all electronic ports including audio port, speaker/mic and mini USB
2. Patent pending roller design for smooth placement and removal of the GPS
3. Form fitted cradle supports and protects device without vibration
4. High strength materials ensure product longevity
5. Lifetime warranty

Material:
High Strength Composite

Note:
The "U" in the part number reflects product packaged in poly bag. The cradle includes a set of two nuts and bolts to connect the cradle to any of the RAM compatible mounts. RAM cradles do not include the RAM-B-238U (Diamond Base & Ball) or RAP-B-238U (Diamond Composite Base & Ball), required to attach to the cradle and RAM mounting system.
Product bundles with Houder Garmin Nuvi 65,66,67, 68 GA67 6" scherm