RAM Mount
iPad Mini 1/2/3 slide-in houder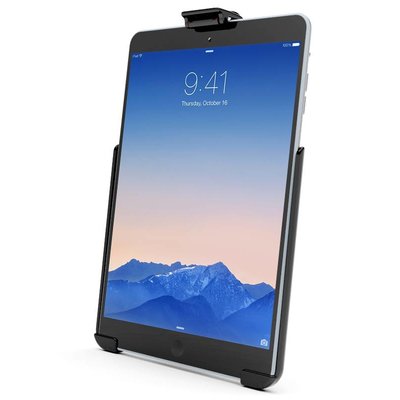 RAM-HOL-AP14U
Beschikbaarheid:

Op voorraad

Levertijd:

Besteld op werkdag voor 15:30, volgende dag geleverd
Product omschrijving
Merk:

RAM Mount

Artikelnummer:

RAM-HOL-AP14U

Beschikbaarheid:

Op voorraad

Levertijd:

Besteld op werkdag voor 15:30, volgende dag geleverd
Unieke slide-in houder voor de iPad Mini. De iPad Mini kan alleen zonder beschermhoes gebruikt worden.

The RAM-HOL-AP14U consists of a high strength composite cradle and patent pending roller design. The patent pending roller design allows for smooth placement and removal of the iPad, while keeping it secure while on the go. Compatible and interchangeable with a wide range of popular RAM Mounting products, this cradle is ready to compliment your iPad and become the most useful accessory in your vehicle.
Compatible Devices (WITHOUT CASE):
Apple iPad mini
Apple iPad mini 3
Voor de iPad Mini 4 is de RAM-HOL-AP20U geschikt
Specifications:
Docking Cradle: No
Locking Cradle: No
Fit's Tablet's WITH Cases: No
Fit's Tablet's WITHOUT Cases: Yes
Low Vibration Environment: Yes
High Vibration Environment: Yes
Cradle Features:
1. Compatible with various iPad cable/docking accessories
2. Patent pending roller design for super smooth placement and removal of the iPad
3. High strength materials maximize longevity of cradle
4. Full access to all ports
5. Lifetime warranty
Material:
High Strength Composite
Please note:

1. This product is not suitable to mount the iPad mini when it is in a case. We recommend the
X-Grip II
for use with an iPad mini in a case.
2. It is the sole responsibility of the user to comply with current legislation when mounting these products in vehicles.
Alleen de iPad Mini houder, voor complete sets zie hieronder.