RAM Mount
Medium Tough-Claw™ C-Kogel klemarmset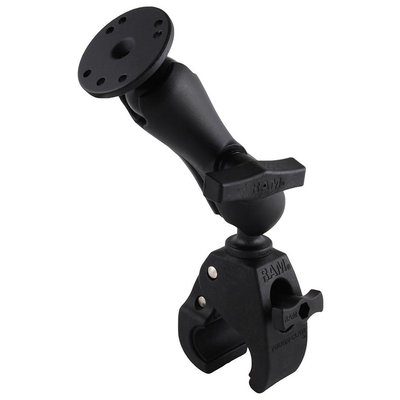 RAP-404-202U
Beschikbaarheid:

Op voorraad

Levertijd:

Besteld op werkdag voor 15:30, volgende dag geleverd
Stevige Stangmontage set max 4.8 cm schroefklem RAP-404U ...
Meer informatie
Product omschrijving
Merk:

RAM Mount

Artikelnummer:

RAP-404-202U

Beschikbaarheid:

Op voorraad

Levertijd:

Besteld op werkdag voor 15:30, volgende dag geleverd
Breed toepasbare Heavy Duty stangklem gemaakt van stevig composiet. Met schroefklem voor muurvaste fixering op (ronde en rechte) stangen tussen 2.5 en 4.8 cm en vlakke randen van tot 4.1 cm. Uitgerust met composiet en rubberen C-Kogel. een ideale basis voor (tijdelijke) montage van uw RAM sets op fiets, motor, vliegtuig, machine etc.
Inclusief RAM C-kogel aluminium klemarm RAM-201U (circa 14 cm) en ronde base kogel RAM-202U.  Keuze opties kogel:
RAM-202U: ronde C-Kogel
RAM-2461U: VESA 75 x75 C-kogel
RAM-246U: VESA 100x100 C-Kogel

Naar keuze ook kortere of langere klemarm (meer/minder prijs).

TThe RAM Tough-Claw™ is the perfect mounting base for quick and easy tool-less installation and removal on round, square, odd shaped rails and bars. The Tough-Claw™ can be clamped on rails from 1" to 2.25" outer diameter. Ideal for mounting tablets, action cameras, smartphones, rod holders for rod storage and much more in a wide variety of applications. Perfectly suited for mounting on the yoke of an aircraft, handlebars and seat posts of bicycles, kayak rails, roll bars and much more, the RAM® Tough-Claw™ will soon become another essential RAM® component in your collection of mounting options.

Clamping Range (Rail/Tube Surfaces):
1" to 1.875"  (2.5 en 4.85 cm)

Clamping Range (Flat Surfaces):
0" to 1.6" (0- 4.1 cm)

Physical Dimensions:
Height: 5.25"
Width: 1.56"

Features:
1. High strength glass filled nylon construction with corrosion resistant stainless steel hardware
2. Rubber pads provide stable, even gripping and protection of mounting surface
3. Clamp jaw is configured for round, flat and odd shapes
4. Quick installation and removal of Tough-Claw™
5. Lifetime Warranty!
6. Made in U.S.A.

Material:
High Strength Composite and Stainless Steel Hardware

Ball Size:
1" Rubber Ball "C" Size

Filmpje van de medium Tough-Claw met optinele montage set.