RAM Mount
montage klemarm C aluminium met PIN-Lock RAM-201-SU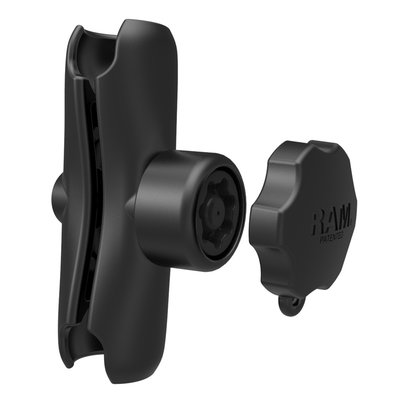 RAM-201-SU
Beschikbaarheid:

Op voorraad

Levertijd:

Besteld op werkdag voor 15:30, volgende dag geleverd
Product omschrijving
Merk:

RAM Mount

Artikelnummer:

RAM-201-SU

Beschikbaarheid:

Op voorraad

Levertijd:

Besteld op werkdag voor 15:30, volgende dag geleverd
C-maat klemhouder met anti-diefstal PIN-Lock knop.

Bestaat uit:

RAM-201U alminium klemhouder
The RAM-201U, standard double socket arm, has a socket at both ends that accommodates 1.5" ball bases. A single spring inside the arm opens the end sockets, allowing you to pivot the ball and socket connection. This socket technology allows for almost infinite adjustment and perfect viewing angles.

Dimensions:
Overall Length: 5.625"
Socket-To-Socket Length: 4.5"

Material:
Powder Coated Marine Grade Aluminum

Ball Size:
1.5" Rubber Ball Size


RAM Mount Combination Pin-Lock ™ Beveiligde knop RAP-S-KNOB5U

Beveiligings knop te monteren ipv bestaande vleugelmoer op C-klemmen. Zorgt voor een blijvende stevige fixatie van uw RAM Mount in extreme omstandigheden en een anti-diefstal beveiliging. De KNOB5U heeft een lager profiel als de standaard knop op de C-klemmen.

The RAP-S-KNOB5U consists of a 5/16"-18 female threaded security knob and key knob. The RAP-S-KNOB5U replaces all knobs on 1.5" diameter C size arms and mounts. The RAP-S-KNOB5U offers the ideal amount of leverage to properly tighten your mount to prevent slippage in heavy chop or in extreme vibration environments. With an emphasis on aesthetics and function, the RAP-S-KNOB5U is low in profile and only adds a small amount of additional bulk to your system when compared to the standard knob included. At a fraction of the cost of currently available keyed locking knobs, the additional peace of mind and tamper resistance comes at a very affordable price. The RAP-S-KNOB5U is the perfect accessory for keeping your mounted electronic device safe from theft and tampering.