RAM Mount
Mount set Hardware for the Raymarine® Dragonfly™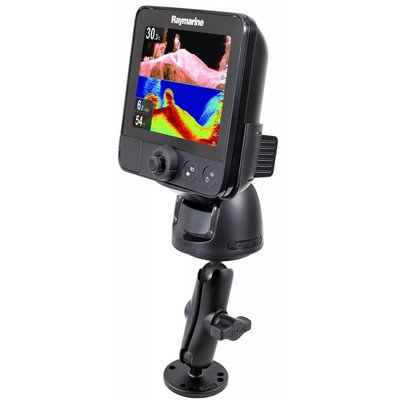 RAM-B-101-RYM1
Beschikbaarheid:

Op voorraad

Levertijd:

Besteld op werkdag voor 15:30, volgende dag geleverd
Montageset light-use schroefvast C-Kogel Raymarine Dragonfly montage RAM-B-101-RYM1 ...
Meer informatie
Product omschrijving
Merk:

RAM Mount

Artikelnummer:

RAM-B-101-RYM1

Beschikbaarheid:

Op voorraad

Levertijd:

Besteld op werkdag voor 15:30, volgende dag geleverd
Montageset B-kogel voor licht gebruik van de Raymarine
®
Dragonfly
™
.
The RAM-B-101-RYM1 consists of (2 quantity) 2.5" diameter round bases that contains the universal AMPS hole pattern and standard length double socket arm. Included are (3 quantity) (#8-32 x 3/4" PH PD Mach Screws) and (3 quantity) (#8-32 SS Nylock Nuts) that will connect the RAM-B-101-RYM1 to the bottom of all Raymarine® Dragonfly™ Sonar/GPS devices. The mount is designed with a RAM 1" diameter patented rubber ball and socket system that has adjustment points at both ends of the double socket arm, allowing for almost infinite adjustment and perfect viewing angles. This is a drill-down mounting solution.

Material:
Powder Coated Marine Grade Aluminum

Ball Size:
1" Rubber Ball "B" Size

Emounting verkoopt alleen mounts, de afgebeelde hardware is ter illustratie en wordt niet meegeleverd.