RAM Mount
Small Tough-Claw™ set klemhouder en M6 kogel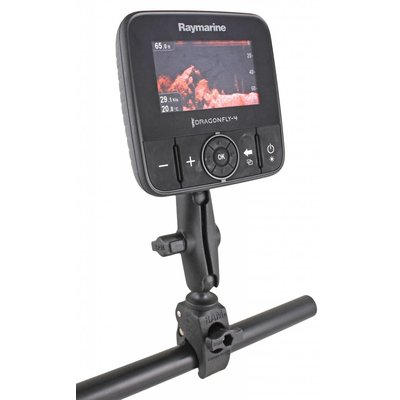 RAP-B-400-379-M616U
Beschikbaarheid:

Op voorraad

Levertijd:

Besteld op werkdag voor 15:30, volgende dag geleverd
Product omschrijving
Merk:

RAM Mount

Artikelnummer:

RAP-B-400-379-M616U

Beschikbaarheid:

Op voorraad

Levertijd:

Besteld op werkdag voor 15:30, volgende dag geleverd
Samengestelde set voor stangmontage van b.v. Raymarine DragonFly of andere electronica met M6 schroefdraad,
RAP-B-379U-M616
.
Tough-Claw smal inclusief aluminium klemhouder RAM-B-201U (of naar keuze korte klem RAM-B-201U-A of lange klem RAM-B-201U-C).
Breed toepasbare Heavy Duty stangklem gemaakt van stevig composiet. Met schroefklem voor muurvaste fixering op ronde en rechte stangen tussen 1.6 en 3.8 cm. Uitgerust met composiet en rubberen B-Kogel. een ideale basis voor (tijdelijke) montage van uw RAM sets op fiets, motor, vliegtuig, machine etc. Ook geschikt voor tafelbladmontage (dikte tot 2.9 cm) b.v. in hobbyruimte of werktafel.
The RAM-B-400-379-M616U consists of the Tough-Claw™ rail clamp base, STANDARD length double socket arm and 1" diameter ball, containing a M6 x 30 SS HEX head bolt. The Tough-Claw™ rail clamp base is the perfect mounting base for quick and easy tool-less installation and removal on round, square, odd shaped rails and bars. The mount is designed with a RAM 1" diameter patented rubber ball and socket system that has adjustment points at both ends of the double socket arm; this allowing for almost infinite adjustment and perfect viewing angles.
The RAM Tough-Claw™ is the perfect mounting base for quick and easy tool-less installation and removal on round, square, odd shaped rails and bars. The Tough-Claw™ can be clamped on rails from 0.625" - 1.5" outer diameter. Ideal for mounting tablets, action cameras, smartphones, rod holders for rod storage and much more in a wide variety of applications. Perfectly suited for mounting on the yoke of an aircraft, handlebars and seat posts of bicycles, kayak rails, roll bars and much more, the RAM® Tough-Claw™ will soon become another essential RAM® component in your collection of mounting options.

The RAM-B-400-379-M616U reduces the mounting footprint, compared to old dragonfly units that contain a large neck. This mount allows for a seamless marriage of RAM components into your Raymarine system ( for Raymarine Dragonfly-4/5 & WiFish Devices) , opening up the ball and socket system and all of our mounting options to you.

Clamping Range (Rail/Tube Surfaces):
0.625" - 1.5"  (1.6 max 3.8 cm)

Clamping Range (Flat Surfaces):
0" to 1.14" (0 max 2.9 cm)

Physical Dimensions:
Height: 4.25" (10.28 cm)
Width: 1.18"  (3 cm)

Features:
1. High strength glass filled nylon construction with corrosion resistant stainless steel hardware
2. Rubber pads provide stable, even gripping and protection of mounting surface
3. Clamp jaw is configured for round, flat and odd shapes
4. Quick installation and removal of Tough-Claw™
5. Lifetime Warranty!
6. Made in U.S.A.

Material:
High Strength Composite and Stainless Steel Hardware

Ball Size:
1" Rubber Ball "B" Size

The RAP-B-379U-M616 consists of a 1" diameter rubber ball, connected to a M6-1 X 6MM male threaded post.

Metric Thread Diameter and Pitch Options::
M6-1 X 6MM
Lengte bout 6 mm


Compatible Devices
Raymarine Dragonfly-7 PRO
Raymarine Dragonfly-5 M
Raymarine Dragonfly-5 DVS
Raymarine Dragonfly-5 Pro
Raymarine Dragonfly-4 DV
Raymarine Dragonfly-4 DVS
Raymarine Dragonfly-4 PRO
Raymarine WiFish