RAM Mount
Telescoping Camera Pole Kit met GoPro® Hero Adapter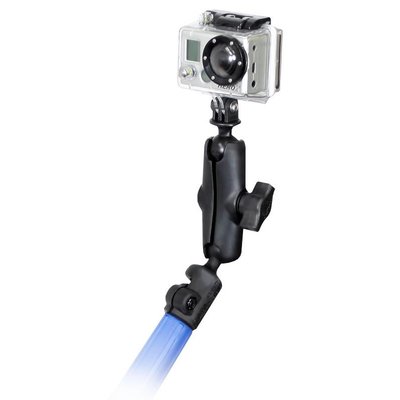 RAP-B-218-1-GOP1U
Beschikbaarheid:

Op voorraad

Levertijd:

Besteld op werkdag voor 15:30, volgende dag geleverd
Product omschrijving
Merk:

RAM Mount

Artikelnummer:

RAP-B-218-1-GOP1U

Beschikbaarheid:

Op voorraad

Levertijd:

Besteld op werkdag voor 15:30, volgende dag geleverd
Maak van uw telescoopstok een GOPRO camera statief (exclusief telescoopstok). Gemaakt van composiet stevig kunststof B-kogels en klemhouder. Ook handig als korte handstick en selfie stick voor GoPro gebruik.
The RAP-B-218-1-GOP1U consists of a female hole base with 1" ball, double socket arm and custom GoPro® Hero adapter. The female hole base will fit most common telescoping and extension poles. The GoPro® Hero adapter attaches directly to the under-side of the camera, replacing the factory mounting bracket.

Compatible GoPro® Cameras:
HD HERO
HD HERO2
HD HERO3
HD HERO
HD HERO 960

Features:
1. Patented rubber ball design dampens shock and vibration helping to extend the life of your camera
2. High strength materials ensure product longevity
3. Fits most common telescoping and extension poles
4. Great for achieving that perfect underwater fish shot
5. Double ball and socket mount offers infinite adjustment angles
6. Lifetime warranty

Compatible Poles:
Most generic telescoping poles with 0.715" OD Threads (paal of stok max 1,8 cm diameter)
Ettore 42004 4-Feet Reach Extension Pole

Material:
High Strength Composite

Ball Size:
1" Rubber Ball "B" Size

Filmpje laat Pole Kit zien met andere camera kogel, werking voor Gopro adapter is gelijk.