RAM Mount
Tough-Track™ Aluminium Rail 330 mm RAM-TRACK-EXA-13U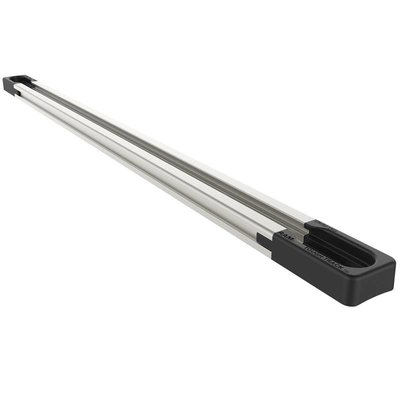 RAM-TRACK-EXA-13U
Beschikbaarheid:

Op voorraad

Levertijd:

Besteld op werkdag voor 15:30, volgende dag geleverd
Product omschrijving
Merk:

RAM Mount

Artikelnummer:

RAM-TRACK-EXA-13U

Beschikbaarheid:

Op voorraad

Levertijd:

Besteld op werkdag voor 15:30, volgende dag geleverd
Het Tough-Track mounting systeem stelt u in staat om een of meer apparaten te monteren op een rail. Aan beide uiteinden zit een toegangspunt en de tracks zijn in verschillende lengtes leverbaar. Er zijn verschillende soorten en maten track kogels te koop bij Emounting. Een ideale montage basis voor vrachtwagen, motorboot, ATV en campers.
De Tough-tracks zijn gemaakt van sterk
geëxtrudeerde
aluminium en hebben afgeronde hoeken. De Tough-Tracks zijn horizontaal of verticaal vast te schroeven. Compatibel met RAM B en C-kogels met T-slotbout.
Gemaakt voor tweezijdige toegang met T-slots. Kan ook enkelzijdig geinstalleerd worden, afdekcap is meegeleverd. Er zijn ook koppelstukjes en haakse bochtstukken te koop.
Handig voor snelle montage van o.a. action cameras, smartphone, tablets en hengelhouders.
Dimensions:
Totale lengte: 405 mm inclusief eind caps
Breedte:  23 mm
Track hoogte: 11 mm
Bruikbare tracklente 13" , 330 mn
Schroefgaten 5 mm diameter
Dit is alleen de Tough-track rail zonder montage kogels (zie gerelateerde items). Bevestigingsschroeven worden niet meegeleverd.


With the RAM Tough-Track
™
, flat surface mounting possibilities are nearly endless for ATVs, cars, combines, motorboats, tractors, trucks and more. The extruded aluminum version of the RAM Tough-Track can be drilled to any flat surface and is designed for use with #8 screws for easy installation – hardware not included. Made to be a dependable and rugged mounting solution, the anodized aluminum provides a smooth slide across the track and anti-corrosion protection.
The RAM-TRACK-EXA-3U features 3" of usable track length, while the included top loading end caps add about 1.5" in length each. Using the end caps allows for two installation options: either use both top loading end caps to create insertion points on both ends of the track, or use one top loading end cap and close the opposite end with the included flush end cap.