RAM Mount
Tough-Track™ Composiet Rail 400 mm RAP-TRACK-A16U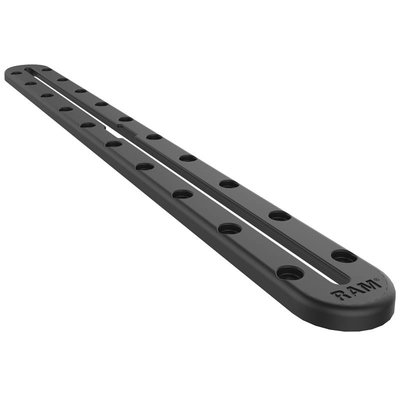 RAP-TRACK-A16U
Beschikbaarheid:

Op voorraad

Levertijd:

Besteld op werkdag voor 15:30, volgende dag geleverd
Product omschrijving
Merk:

RAM Mount

Artikelnummer:

RAP-TRACK-A16U

Beschikbaarheid:

Op voorraad

Levertijd:

Besteld op werkdag voor 15:30, volgende dag geleverd
Het Tough-Track mounting systeem stelt u in staat om een of meer apparaten te monteren op een rail. Midden in de track zit een toegangspunt en de tracks zijn in verschillende lengtes leverbaar. Er zijn verschillende soorten en maten track kogels te koop bij Emounting. Een ideale montage basis voor vrachtwagen, motorboot, ATV en campers.
De Tough-tracks zijn gemaakt van sterk composiet, kunststof versterkt met glasvezel, en hebben afgeronde hoeken. De Tough-Tracks zijn horizontaal of verticaal vast te schroeven. Compatibel met RAM B en C-kogels.
Handig voor snelle montage van o.a. action cameras, smartphone, tablets en hengelhouders.
Dimensions:
Overall length: 18.5" (465 mm) totale lengte
Overall width: 1.75" (44 mm)
Track thickness: .35" (9 mm)
Inside track length: 16" (400 mm) track lengte
Schroefgat 7 mm diameter
Dit is alleen de Tough-track rail zonder montage kogels (zie gerelateerde items). Bevestigingsschroeven worden niet meegeleverd.