RAM Mount
Tough Netbook Tray RAM-234-6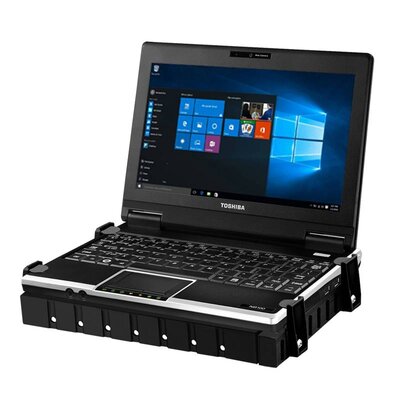 RAM-234-6
Beschikbaarheid:

Op voorraad

Levertijd:

Besteld op werkdag voor 15:30, volgende dag geleverd
Verstelbare Toughtray voor verschillende diktes netbooks. ...
Meer informatie
Product omschrijving
Merk:

RAM Mount

EAN:

0793442920981

Artikelnummer:

RAM-234-6

Beschikbaarheid:

Op voorraad

Levertijd:

Besteld op werkdag voor 15:30, volgende dag geleverd
Ram Tough-Tray netbooks
Well thought out and compact designs are common place at RAM and our new RAM Tough Tray II™ is no exception. Spring loaded to create just the right amount of holding force, most tablets, UMPC's, and compact laptops can be made safe and secure while on the go. Simple to install and adjust retaining arms insure a perfect fit without interfering with ports or functions. Also, if a compact laptop is in place, these retaining arms hold firm with the screen up or down. Ideally suited to a multitude of applications, and easily attached to hundreds of mounting systems for cars, boats, planes, and more, compact devices just work better in the universal tablet holder from RAM.


Dimensions:
Tray Depth: 6.0" (15 cm)
Tray Thickness: 1" (2,5 cm)
Tray Width (Expansion): 8.56" to 12.31" (21.7 cm tot 31.3 cm)
Side Clamp Arm Height: 2.75" max (7 cm)


4x 4 verschillende klemmen inbegrepen; voor verschillende diktes netbook of tablets (iPad), maar ook b.v. Toughbooks. Kan ook gebruikt worden voor montage van keyboard bij touchscreen scherm.
Dankzij de "meccano"-achtige tray op diverse posities te monteren (uitgangen stekkers blijven vrij).
Het gepatenteerde RAM rubberen kogelsysteem zorgt voor optimale verstelbaarheid van de tray en dempt trillingen van het voertuig.


NB: dit is alleen de tray. Voor bevestiging op RAM systemen zie onze RAM sets, of vraag om advies.