RAM Mount
Toughtray laptop RAM-234-3 - Gebogen klemmen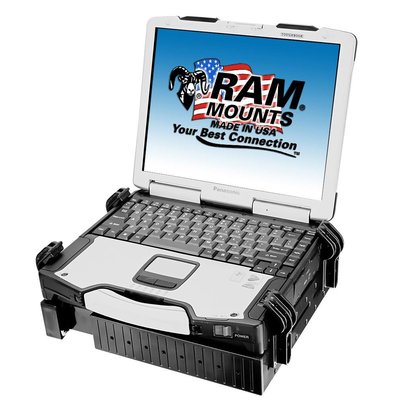 RAM-234-3
Beschikbaarheid:

Op voorraad

Levertijd:

Besteld op werkdag voor 15:30, volgende dag geleverd
Verstelbaar, met vier horizontaal en verticaal verstelbare klemmen. ...
Meer informatie
Product omschrijving
Merk:

RAM Mount

Artikelnummer:

RAM-234-3

Beschikbaarheid:

Op voorraad

Levertijd:

Besteld op werkdag voor 15:30, volgende dag geleverd
Verstelbare laptop tray met gebogen verstelbare (in hoogte en breedte) klemmen.

RAM Tough-Tray
The RAM Tough-Tray™ is spring loaded expandable tray that can accommodate 10 to 16 inch wide laptops. The tray includes four (4) side clamping arm with rubber grip feature. These arms can be moved both vertically and horizontally. This allows for a custom fit for varying thicknesses of laptops and the freedom of not blocking ports or drives. Hole patterns on perimeter of tray facilitate the mounting of additional RAM systems to support GPS, PDAs or other electronics.


Tough-Tray™ Dimensions:
Tray Depth: 10.0"
Tray Thickness: 2.125"
Tray Width (Expansion): 10" to 16" (min 253 mm breed)
NB: dit is alleen de tray. Voor bevestiging op RAM systemen zie onze RAM sets, of vraag om advies.