RAM Mount
Transducer Lowrance TotalScan Mount flexible arm montage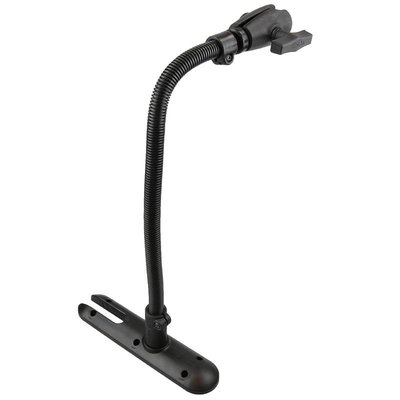 RAM-316-18-TRA4U-NB
Beschikbaarheid:

Op voorraad

Levertijd:

Besteld op werkdag voor 15:30, volgende dag geleverd
Monteer Transducer Lowrance TotalScan Mount flexible arm montage aan boot of kayak RAM
-316-18-TRA4U-NB ...
Meer informatie
Product omschrijving
Merk:

RAM Mount

Artikelnummer:

RAM-316-18-TRA4U-NB

Beschikbaarheid:

Op voorraad

Levertijd:

Besteld op werkdag voor 15:30, volgende dag geleverd
Montage oplossing voor Lowrance TotalScan transducers aan visboten. De stang is gemaakt van flexibel, buigbaar massief aluminium met een kunststof afdekmantel. Voorzien van C-kogel koppeling compatibel met RAM Mount C-parts voor bijvoorbeeld vaste montage of montage op een Tough-track. De transducer kan onderaan gemonteerd worden.

Kayak fishing is all about adaptability, and RAM® Mounts offers the widest selection of kayak fishing accessories to adapt to a wide range of fishing scenarios. The Transducer Arm Mount for the Lowrance TotalScan enables quick and effective deployment and retrieval of your Lowrance TotalScan while protecting it from damage. Perfect for kayak applications, the transducer arm can quickly be retrieved if you enter shallow water or when beaching your kayak. Use the included screws to attach the Arm Mount to your Lowrance TotalScan. Then, utilize any RAM C size base to mount to the kayak.

Compatible Transducers:
Lowrance TotalScan

Features:
1. 18" rigid aluminum rod can be bent to position your transducer to its optimum viewing location
2. Patented socket technology allows for quick raising, lowering, removal and stowage of transducer arm
3. High quality materials prevent corrosion
4. Lifetime warranty
5. Made in the U.S.A.

Material:
High Strength Composite and Marine-grade Aluminum

Ball Size:
1.5" Rubber Ball "C" Size


Foto 1 en 2 zijn het geleverde artikel, andere foto's zijn ter illustratie van de mogelijkheden.