RAM Mount
Trolling Motor Stabilizer Mount large RAM-108U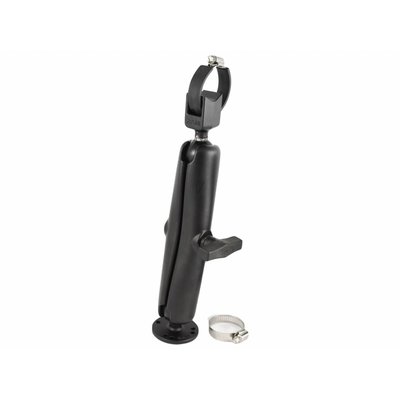 RAM-108-DU
Beschikbaarheid:

Op voorraad

Levertijd:

Besteld op werkdag voor 15:30, volgende dag geleverd
Product omschrijving
Merk:

RAM Mount

Artikelnummer:

RAM-108-DU

Beschikbaarheid:

Op voorraad

Levertijd:

Besteld op werkdag voor 15:30, volgende dag geleverd
Stevige aluminium C-kogel mount voor bevestiging van een Trolling Motor. Ronde baseplate kogel, klemhouder en een kogel met stalen spanband.
Specificaties
-Spanband geschikt voor stangen van 25 - 53 mm diameter
-Base plaat is 63.5 mm in diameter
-Hoogte circa 318 mm (12.5")
Geleverde onderdelen:
RAM-201U-D klemhouder lang
RAM-202U C-Kogel
RAM-108BU: C-kogel met spanband en bescherming
The RAM-108-DU consists of a LONG length double socket arm, 2.5" diameter round base that contains the universal AMPs hole pattern and single strap base. The strap will accommodate rails from 1" to 2.1" in diameter. The trolling motor stabilizer will take every bit of the vibration out of your trolling motor while all the time protecting the head, shaft and mount from damage. A must for any angler with a bow mount trolling motor.
The maximum allowable distance between the mounting surface on the boat and the lowest point of the trolling motor shaft is 12". Distances shorter than this are compatible.
Features:
1. Reduces bouncing on the water or when transporting your boat
2. Ideal for rough water conditions
3. Holds trolling motor in place
4. Reduces shock and vibration
5. Lifetime warranty
Material:
Powder Coated Marine Grade Aluminum
Ball Size:
1.5" Rubber Ball Size