RAM Mount
Tweedelige B-klemhouder lang met koppeling RAM-B-201-201U-C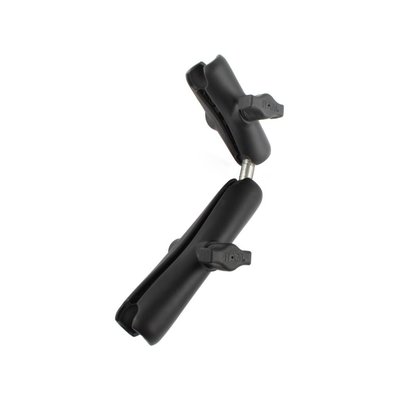 RAM-B-201-201U-C
Beschikbaarheid:

Op voorraad

Levertijd:

Besteld op werkdag voor 15:30, volgende dag geleverd
Product omschrijving
Merk:

RAM Mount

EAN:

0793442934131

Artikelnummer:

RAM-B-201-201U-C

Beschikbaarheid:

Op voorraad

Levertijd:

Besteld op werkdag voor 15:30, volgende dag geleverd
Set bestaande uit een middellange klemhouder (RAM-B-201U), een lange klemhouder (RAM-B-201U-C) en een dubbele kogel verbinding koppeling (RAM-B-230U). Ideaal voor verlenging van de standaard klemhouders en extra flexibiliteit en instel mogelijkheden in moeilijke montage situaties.


The RAM-B-201-201U-C consists of a STANDARD LENGTH double socket arm, LONG LENGTH double socket arm and double ball adapter that joins the two arms together. A single spring inside the arm opens the end sockets, allowing you to pivot the ball and socket connection. This socket technology allows for almost infinite adjustment and perfect viewing angles.
Dimensions:
Standard Double Socket Arm Overall Length: 3.69" (9.4 cm)
Long Double Socket Arm Overall Length: 6" (15 cm)
Double Ball Adapter Ball Center to Ball Center: 1.75" ( 4.5 cm)
Totale lengte circa 28 cm.