RAM Mount
Universal No-Drill™ iPad 9.7 X-Grip RAM-VB-196-SW1-UN9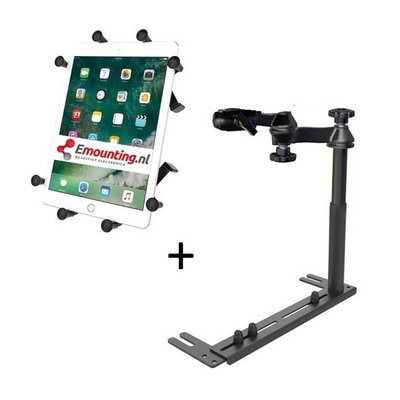 RAM-VB-196-SW1-UN9
€299,00
€247,11 Excl. btw
Beschikbaarheid:

Op voorraad

Levertijd:

Besteld op werkdag voor 15:30, volgende dag geleverd
Product omschrijving
Merk:

RAM Mount

Artikelnummer:

RAM-VB-196-SW1-UN9

Beschikbaarheid:

Op voorraad

Levertijd:

Besteld op werkdag voor 15:30, volgende dag geleverd
iPad 9.7 en andere 10 inch X-Grip tablethouder met No-Drill montage heavy-duty set.
Inclusief Universele Swingarm base met female Tele-Pole. Breedte instelbaar op stoelbouten van de bijrijderstoel tussen 22.5 en 48 cm (hart op hart).
Uitgerust met dubbele swingarm voor maximale flexibiliteit.
In hoogte verstelbare starre stalen vloerstandaard (stel bereik 29,2 - 43,2 cm).
Zeer robuuste uitvoering voor zwaar gebruik geschikt.
The RAM
®
Universal No-Drill
™
features a heavy-duty steel mounting base designed to fit a variety of vehicles. Using the front bench or passenger side seat rail bolts as attachment points, existing hardware is used to secure the laptop mount base in the vehicle.
Tablethouder RAM-HOL-UN9U
RAM
-
HOL
-
UN9U
bestaat uit een
composiet
veer
houder
, verstelbare
grip
armen
en extra
bodem
ondersteuning
.
Inbegrepen zijn
extra gemakkelijk
grip
knoppen,
op de achterkant
van de houder voor
quick release
van het tablet.
De RAM
-
HOL
-
UN9U
rekt uit en krimpt voor
een perfecte pasvorm
van de meeste
10 "
tabletten
met of zonder hoes
(ook b.v. Otterbox en Griffin),
evenals een aantal
kleinere
tabletten.
U kunt hieronder
controleren of
afmetingen
van het tablet
compatible zijn met
de X-
Grip
™.
Compatible Devices (WITH OR WITHOUT CASE):
Apple iPad Air 1/2/ iPad 9.7 (2017)
Apple iPad 1, 2, 3, 4
Samsung Galaxy Tab 8.9
Samsung Galaxy Tab 10.1 2014
Samsung Galaxy Tab 2/3/4 10.1
Samsung Galaxy Tab A 9.7/ TAB A 10.1 (2016)
Samsung Galaxy Tab S 10.5


Samsung Galaxy Tab S2 9.7


Most 10" Screen Tablets


All devices that maintain the following dimensions below:

Holder Dimensions:
Minimum Width = 6.25" (15,9 cm)
Maximum Width = 8.1" (20.6 cm)
Depth = 0.875" (2,2 cm)

Maximum Length (using additional side supports) = 10.25" – (26.04 cm)
Placement of Mount:
Passenger side floor board, in front of seat
Drilling Requirements:
No - attaches to seat studs
Seat Configuration:
Bucket
Material:
High Strength Composite and Powder Coated Steel
Features:
1. Custom, No-Drill
™
mounting base offers lowest profile in the industry
2. Patented ball and socket mounting system offers shock and vibration dampening
3. Dual articulating swing arm offers the simplest and most comfortable adjustment points in the industry
4. Combination Telescoping pole adjusts both height and swing with one knob
5. Modular system makes changing your vehicle, or your device, simple and cost effective
6. Ability to mount laptops, tablets and other devices using the same mounting system
7. Universal Laptop Tray accommodates most laptops