RAM Mount
Universele Rolstoel Mount 10" tablets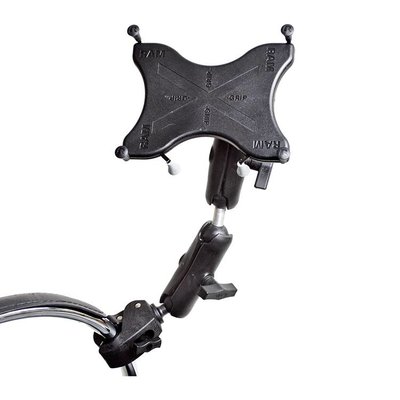 RAP-404-230-UN9
€199,00
€164,46 Excl. btw
Beschikbaarheid:

Op voorraad

Levertijd:

Besteld op werkdag voor 15:30, volgende dag geleverd
Stangmontage tablets flexibele 40 cm arm RAP-404-230-UN9 ...
Meer informatie
Product omschrijving
Merk:

RAM Mount

Artikelnummer:

RAP-404-230-UN9

Beschikbaarheid:

Op voorraad

Levertijd:

Besteld op werkdag voor 15:30, volgende dag geleverd
Zeer flexibele samengestelde arm met stevige Tough-Claw stangbevestiging en universele 10 inch tablet houder. Ideaal voor rolstoel of ander stang toepassingen. Kan ook op tafelranden gemonteerd worden. Dankzij de vier kogelkoppelingen in oneindig veel posities in te stellen en te fixeren. Zie filmpje.

Set RAP-404-230-UN9 bestaat uit:
1x medium Tough-Claw with 1.5" rubber ball RAP-404U
2x light-weight double socket C size composite arms RAM-201U
1x double-ball connector RAM-230U
1x round base adapter with 1.5" rubber ball RAM-202U
1x Universal X-Grip® holder for 10" tablets RAM-HOL-UN9U

The mount has a reach of 42cm from the centre of the Tough-Claw jaws to the centre of the X-GRIP III holder.

Once secured on a rail with the Tough-Claw base, with 4 points of articulation your tablet can be placed in an unlimited number of positions. Also once the arms are locked in place, the entire mount can be removed or applied in seconds using the Tough-Claw's thumb screw. You can also use the mount with just one of the arms if you don't require the full reach of both.

The RAM Tough-Claw™ is the perfect mounting base for quick and easy tool-less installation and removal on round, square, odd shaped
rails and bars. The Tough-Claw™ can be clamped on rails from 26mm to 47mm outer diameter.

Clamping Range (Rail/Tube Surfaces):
1" to 1.875"  (2.5 en 4.85 cm)

Clamping Range (Flat Surfaces):
0" to 1.6" (0- 4.1 cm)

The X-Grip®  consists of a composite spring loaded holder, expandable grip arms and additional bottom support keeper. Included are
extra easy access grip knobs, located on the back of the holder for quick release of your tablet. The holder expands and contracts for
perfect fit of most 10" tablets with or without cases, as well as some smaller tablets. Please verify dimensions of your tablet below for
compatibility with the X-Grip®

Holder Dimensions:
Minimum Width = 158.75mm
Maximum Width = 205.74mm
Depth = 22mm

Features:
1. Spring loaded holder expands and contracts for perfect fit of your tablet
2. Rubber coated tips will hold your tablet firm and stable
3. Versatility of holder allows for attachment to many socket mounts
4. Socket technology allows for multiple adjustment angles and articulation of your tablet
5. Easy access grip knobs located on the back of the holder allow for quick insertion and release of your tablet
6. Multiple mounting access points on the back of the holder
7. Additional support at the bottom of the holder.