RAM Mount
X-Grip smartphone flex statief RAM-B-316-1-UN7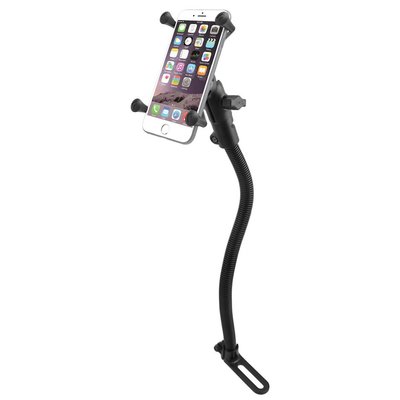 RAM-B-316-1-UN7
Beschikbaarheid:

Op voorraad

Levertijd:

Besteld op werkdag voor 15:30, volgende dag geleverd
Klemhouder X-Grip UN7B met flexibel statief stoelmontage ...
Meer informatie
Product omschrijving
Merk:

RAM Mount

Artikelnummer:

RAM-B-316-1-UN7

Beschikbaarheid:

Op voorraad

Levertijd:

Besteld op werkdag voor 15:30, volgende dag geleverd
Complete set om uw iPhone of smartphone (check de maten hieronder) te bevestigen aan de voorstoel van auto of boot.
Het 45 cm hoge statief is zeer stabiel, maar kan gemakkelijk in de gewenste richting gebogen worden Statief kan eenmalig op lengte afgezaagd worden. Door de rubberenkogel is de houder in elke gewenste positie te draaien, schuin, recht, portrait of landscape. De kogel zorgt bovendien voor demping van de trillingen van het voertuig.
 1x RAM-HOL-UN7BU
The RAM universal spring loading clamping cradle includes side clamps with rubber bumpers that Universele X-Grip houder met 1inch bal voor mobiele telefoon. De RAM X-Grip heeft een vernuftig design met 4 poten die verstelbaar zijn. Compatible met een breed scala aan RAM Mounts. Kenmerken:Perfecte pasvorm door verstelbare poten. Rubberen uiteinden houden de smartphone goed vast. Inclusief B-kogel passend op RAM B-systeem.


Sometimes, its all about the design. If you are looking for a compact mount for your cell phone without that cookie cutter shape, you've found it. The RAM X-Grip™ has a clean and clever four leg design that sports great holding power without hiding your phone behind foam pads and plastic. The perfect compliment to the modern sleek interior of today's vehicles, the RAM X-Grip™ is the cell phone holder evolved. Compatible and interchangeable with a wide range of popular RAM Mounting products, this elegant holder is ready to compliment your phone and become the most useful accessory in your vehicle.

Compatible Devices (WITH OR WITHOUT CASE):
Apple iPhone 5/6/7/8
Apple iPod touch (All Models)
Apple iPod (G1-G5)
Samsung GALAXY S4
En vele andere smartphones, check de maten hieronder

The X-Grip™ holder is compatible with handheld devices that will fit the dimensions listed below. It is important to verify the dimensions of your handheld device with a case/sleeve/skin when determining the overall size.

Holder Dimensions:
Minimum Width = 0.875" (2,2 cm)
(Devices at 0.875" must be a minimum of 4" in height to fit into holder)
Maximum Width = 3.25" (8,3 cm)
Depth = 0.875" (2,2 cm)

Features:
1. Spring loaded holder expands and contracts for perfect fit of your device
2. Rubber coated tips will hold device firm and stable
3. Versatility of holder allows for attachment to many RAM-to-RAM ball mounts
4. Single socket technology allows for multiple adjustment angles and articulation of device

Material:
High Strength Composite with Rubber Tips

Ball Size:
1" Rubber Ball "B" Size


1. Ram-B-316-1U statief met bodemmontage
The RAM POD I, universal no-drill™, vehicle mount is the latest in the Mobile In-Car range from RAM. This RAM POD I allows you to mount a light to medium weight item in a car safely and securely. Ball Size:1" Rubber Ball "B" Size


Installation Instructions:
At right angles to the base of the flexible 18" long leg is a foot with a mounting hole. Simply place the hole into the passenger seat mounting bolt and adjust the mount to the required height with the flexible leg. The rigid flexible arm will hold everything you need safely and securely.
Material: