RAM Mount
X-Grip zuignapset Alu klemhouder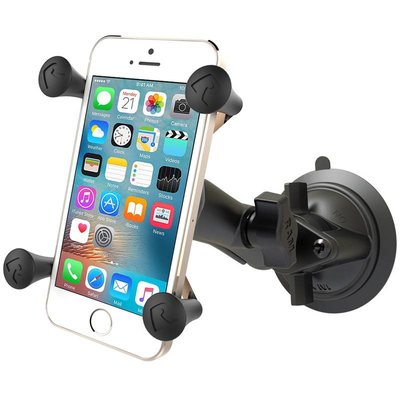 RAM-B-166-UN7U
Beschikbaarheid:

Op voorraad

Levertijd:

Besteld op werkdag voor 15:30, volgende dag geleverd
X-Grip klemhouder, twistlock 8.5 cm zuignap RAM-B-166-UN7U ...
Meer informatie
Product omschrijving
Merk:

RAM Mount

EAN:

793442937200

Artikelnummer:

RAM-B-166-UN7U

Beschikbaarheid:

Op voorraad

Levertijd:

Besteld op werkdag voor 15:30, volgende dag geleverd
Complete zuignap set voor bevestiging van smartphone met de unieke X-Grip. Deze uitvoering heeft een aluminium klemhouder en een grote 8,5 cm twistlock zuignap met sterke zuigkracht. Geschikt voor smartphones tussen de 48 en 83 mm breed.

The RAM-B-166-UN7U consists of a 3.25" twist lock suction cup base, double socket system and universal spring loaded X-Grip® holder for cell phones. The suction cup, twist lock base is designed to have a strong hold on glass and non-porous plastic surfaces. The mount is designed with a RAM 1" diameter patented rubber ball and socket system that has adjustment points at both ends of the double socket arm; this allowing for almost infinite adjustment and perfect viewing angles. The included X-Grip® cradle has a clean and clever four leg design that sports great holding power without hiding your phone behind foam pads and plastic. The spring loaded X-Grip® holder expands and contracts, allowing for a perfect custom fit of your cell phone. The perfect compliment to the modern sleek interior of today's vehicles, the RAM X-Grip® is the cell phone holder evolved.

Compatible Devices (WITH OR WITHOUT CASE):
Apple iPhone 5s/6s/7/8
Apple iPhone 5c
Apple iPhone 5
Apple iPhone 6(s)
Apple iPhone 4S
Apple iPhone 4
Apple iPhone 3GS
Apple iPhone 3G
Apple iPhone
Apple iPod touch (All Models)
Apple iPod (G1-G5)
Samsung GALAXY S4
Samsung GALAXY S5

The X-Grip® holder is compatible with handheld devices that will fit the dimensions listed below. It is important to verify the dimensions of your handheld device with a case/sleeve/skin when determining the overall size.

Holder Dimensions:
Minimum Width = 1.875" (4.8 cm) (min hoogte 10.8 cm)
Maximum Width = 3.25" (8,3 cm) (min hoogte 5.72 cm)
Depth = 0.875" (2,2 cm)

Features:
1. Rustproof
2. High strength composite and stainless steel construction
3. Spring loaded holder expands and contracts for perfect fit of your device
4. Rubber coated tips will hold device firm and stable
5. Socket technology allows for multiple adjustment angles and articulation of device
6. Lifetime warranty
7. Made in U.S.A.

Material:
Powder Coated Marine Grade Aluminum, Marine Grade Stainless Steel Components & High Strength Composite

Ball Size:
1" Rubber Ball "B" Size


Nu met GRATIS RAM Mount Tether:
De X-Grip Tether wordt aanbevolen voor out-of-cockpit motor toepassingen waar door overmatige wind en G-krachten bewegingen van het apparaat in de houder kunnen ontstaan. Of voor offroad gebruik van de X-Grip op een mountainbike. Het is ook geweldig als je gewoon een beetje extra stabiliteit en demping van trillingen wilt bij het vastleggen van video. De Tether is gemaakt van hoogwaardig elastomeer materiaal en past eenvoudig rond de X-Grip.