Brodit
Tabletmount 10" X-grip met Proclip Sprinter-VW Crafter 07-16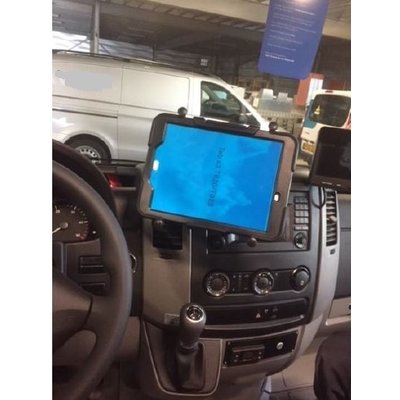 213456-UN9U
€179,00
€147,93 Excl. btw
Beschikbaarheid:

Op voorraad

Levertijd:

Besteld op werkdag voor 15:30, volgende dag geleverd
Tabletmount 10" X-grip met Proclip Sprinter-VW Crafter 07-16 ...
Meer informatie
Product omschrijving
Merk:

Brodit

Artikelnummer:

213456-UN9U

Beschikbaarheid:

Op voorraad

Levertijd:

Besteld op werkdag voor 15:30, volgende dag geleverd
Complete professionele mount voor uw 10"  tablet met/zonder hoes in MB Sprinter of VW Crafter.  een door Emounting samenstelling van Brodit Proclip en RAM Mounts tablethouder.

Samenstelling:

1x RAM Mounts 10" tablets X-Grip
RAM-HOL-UN9U bestaat uit een composiet veerhouder, verstelbare grip armen en extra bodem ondersteuning. Inbegrepen zijn extra gemakkelijk   grip knoppen, op de achterkant van de houder voor quick release van het tablet. De RAM-HOL-UN9U rekt uit en krimpt voor een perfecte pasvorm van de meeste 10 "tabletten met of zonder hoes (ook b.v. Gumdrop en Griffin), evenals een aantal kleinere tabletten. U kunt hieronder controleren of afmetingen van het tablet compatible zijn met de X-Grip.


Compatible Devices (WITH OR WITHOUT CASE):
Apple iPad Air 1/2/3  iPad 9.7 2017/2018
Apple iPad 1-4
Apple iPad Pro 9.7/10.5/11
Samsung Galaxy Tab A 9.7/10.1/10.5
Samsung Galaxy Tab S 10.5
Samsung Galaxy Tab S2/S3 9.7/ S4 10.5
Most 10" Screen Tablets
Microsoft Surface Go 10 (zonder keyboard)


All devices that maintain the following dimensions below:

Holder Dimensions:
Minimum Width = 6.25" (15,9 cm)
Maximum Width = 8.1" (20.6 cm)
Depth = 0.875" (2,2 cm)

Maximum Length (using additional side supports) = 10.25" – (26.04 cm)

1x Klem armset kort RAM-B-101U-A voor flexibele instelling

1x Brodit Proclip nummer 213456
Met de Brodit ProClip creëert u een stevig montage platform op het dashboard van uw dashboard. Snel, zonder gereedschap en zonder uw dashboard te beschadigen. Elke proclip is specifiek voor één plek in de auto, op maat gemaakt voor dat type/model/bouwjaar auto. Voor professionele toepassingen is deze Proclip geschikt, een extra sterke (heavy duty) versie. De ProClip wordt geleverd met een uitgebreide installatiehandleiding. Brodit ProClip: veilig, stevig en binnen handbereik!
Proclip 213456 geschikt voor:


Mercedes Benz Sprinter 07-18 (For all countries)
Volkswagen Crafter 07-16 (For all countries)


Extra strength mounting platform for installation of heavier devices. You can keep your device in a holder or attach it directly onto the mounting platform. The placement is optimized for touch screens, PDAs, taximeter screens and printers. You will have your device within easy reach, safe and convenient! The installation is quick and easy and will not damage the interior. Detailed installation instructions included.
Item no:

213456 - Center mount, Extra strength mounting platform. NOT for models with a glove box door above the radio.

Montage tip: De Dashmount extra vastzetten door een schroef te draaien door de
dashmount en in de kunststof rand van het luchtrooster.