RAM Mount
X-Grip 10 inch Tablet Houder Dual Articulating zuignap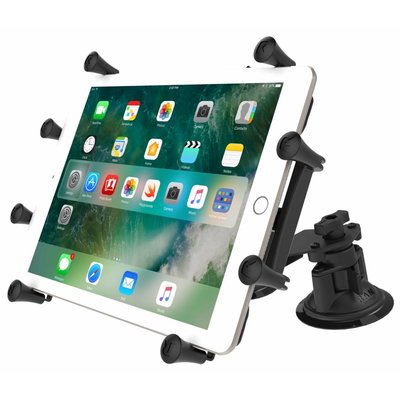 RAM-B-189-PIV1-UN9U
€199,00
€164,46 Excl. btw
Beschikbaarheid:

Op voorraad

Levertijd:

Besteld op werkdag voor 15:30, volgende dag geleverd
X-Grip 10 inch Tablet Houder Dual Articulating zuignap RAM-B-189-PIV1-UN9U ...
Meer informatie
Product omschrijving
Merk:

RAM Mount

EAN:

0793442945076

Artikelnummer:

RAM-B-189-PIV1-UN9U

Beschikbaarheid:

Op voorraad

Levertijd:

Besteld op werkdag voor 15:30, volgende dag geleverd
RAM-HOL-UN9U bestaat uit een composiet veerhouder, verstelbare grip armen en extra bodem ondersteuning. Inbegrepen zijn extra gemakkelijk   grip knoppen, op de achterkant van de houder voor quick release van het tablet. De RAM-HOL-UN9U rekt uit en krimpt voor een perfecte pasvorm van de meeste 10 "tabletten met of zonder hoes (ook b.v. Otterbox en Griffin), evenals een aantal kleinere tabletten. U kunt hieronder controleren of afmetingen van het tablet compatible zijn met de X-Grip ™.

Inclusief Dual Articulating zuignap set  RAM-B-189B-PIV1U

Dubbele Twistlock zuignap met metalen baseplate. Dankzij de vernuftige constructie is de hoek van de zuignappen aan te passen aan gebogen voorruit of ander oppervlaktes.

The RAM-B-189-PIV1-A-UN9U consists of a dual articulating 3.3" twist lock suction cup base, SHORT length double socket arm, and universal X-Grip® cradle for 10" tablets. The dual articulating suction cup base is an amazing innovation in suction cup mounting. With the ability to independently articulate each suction cup, this mounting base can be used in a variety of applications such as curved windows and surfaces. Included are extra easy access grip knobs, located on the back of the cradle for quick release of your tablet. The X-Grip® cradle is compatible with devices that will fit the dimensions listed below. It is important to verify the dimensions of your handheld device with a case/sleeve/skin when determining the overall size.


Compatible Devices (WITH OR WITHOUT CASE):
Apple iPad Air 1/2/ iPad 9.7 2017/2018
Apple iPad 1-4
Apple iPad Pro 9.7/10.5/11
Samsung Galaxy Tab A 9.7/10.1/10.5
Samsung Galaxy Tab S 10.5
Samsung Galaxy Tab S2/S3 9.7/ S4 10.5
Most 10" Screen Tablets
Microsoft Surface Go 10 (zonder keyboard)


All devices that maintain the following dimensions below:

Holder Dimensions:
Minimum Width = 6.25" (15,9 cm)
Maximum Width = 8.1" (20.6 cm)
Depth = 0.875" (2,2 cm)

Maximum Length (using additional side supports) = 10.25" – (26.04 cm)

X-Grip® Holder Features:
1. Spring loaded cradle expands and contracts for perfect fit of your tablet
2. Rubber coated tips will hold your tablet firm and stable
3. Versatility of cradle allows for attachment to many 1" socket mounts
4. Socket technology allows for multiple adjustment angles and articulation of your tablet
5. Easy access grip knobs, located on the back of the cradle for quick release of your tablet
6. Multiple mounting access points on the back of the cradle
7. Additional support keeper at the bottom of the cradle
8. Full access to all ports
9. Lifetime warranty
10. Made in the U.S.A.

Material:
Powder Coated Marine Grade Aluminum, Marine Grade Stainless Steel Components & High Strength Composite


Bekijk ook onze overige tablethouders voor in de auto.