RAM Mount
Benzinetank motorbeugel small met large X-Grip RAM-B-410-A-UN10BU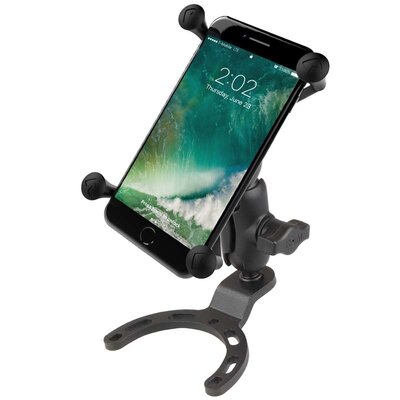 RAM-B-410-A-UN10BU
Beschikbaarheid:

Op voorraad

Levertijd:

Besteld op werkdag voor 15:30, volgende dag geleverd
Benzinetank motorbeugel small met large X-Grip RAM-B-410-A-UN10BU ...
Meer informatie
Product omschrijving
Merk:

RAM Mount

EAN:

0793442952722

Artikelnummer:

RAM-B-410-A-UN10BU

Beschikbaarheid:

Op voorraad

Levertijd:

Besteld op werkdag voor 15:30, volgende dag geleverd
Stijlvolle montage beugel van gepoedercoat aluminium met B-Kogel voor directe montage van de meegeleverde X-Grip smartphone houder.  Met uitgebreide hardware voor de bevestiging.

De set bestaat uit:
1x RAM-B-410 small beugel benzinetank
1x RAM-201U-A; korte aluminium klemarm
1x RAM-HOL-UN10BU Large X-Grip smartphone

The RAM Gas Tank base is a low-profile way to get a unique perspective from your camera or to attach your electronic device where it can be quickly accessible. This powder coated aluminum base mounts directly to the stock gas tank of any listed compatible motorcycles. We include the hardware you need to mount to the fill port as well. Included is the X-Grip for large phone devices. The X-Grip® includes a device tether recommended for outdoor applications. The cradle is compatible with handheld devices that will fit the dimensions listed below. It is important to verify the dimensions of your handheld device with a case/sleeve/skin when determining the overall size.


Included Hardware:
Qty. 3 M6-1.0 x 25MM Socket Head Cap Screw
Qty. 4 M5-0.8 x 45MM Socket Head Cap Screw
Qty. 3 M5-0.8 x 35MM Socket Head Cap Screw
Qty. 3 M5-0.8 x 25MM Socket Head Cap Screw
Qty. 3 M5-0.8 x 20MM Socket Head Cap Screw
Qty. 3 M5-0.8 x 16MM Socket Head Cap Screw
Qty. 4 M5 Stainless Steel Flat Washer
Qty. 3 M6 Stainless Steel Flat Washer

Material:
Powder Coated Marine Grade Aluminum & High Strength Composite

Ball Size:
1" Rubber Ball "B" Size


NB: To ensure proper fit use the measuring guide.Tank bolts distance, for this part will be 3.5" (90 mm).
X-Grip specs:
X-Grip houder UN10BU grotere  smartphones S7/8+/9+, Phablets,  iPhone 6/7/8 Plus, iPhone XR/XS Max.

Holder Dimensions:
Minimum Width = 1.75" (4,4 cm) (met minimum hoogte 13.90 cm)
Maximum Width = 4.5" (11,4 cm) (met minimum hoogte 8,26 cm)