RAM Mount
GoPro® Hero Adapter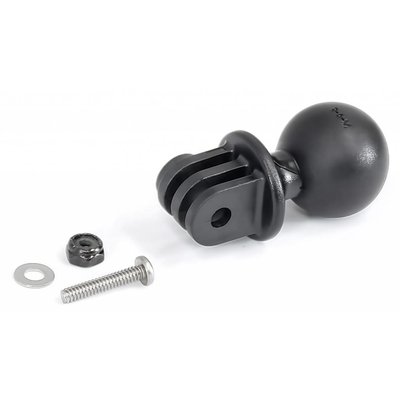 RAP-B-202U-GOP1
Beschikbaarheid:

Op voorraad

Levertijd:

Besteld op werkdag voor 15:30, volgende dag geleverd
Adapter voor bevestiging GoPro Hero housing aan RAM Mounts. ...
Meer informatie
Product omschrijving
Merk:

RAM Mount

Artikelnummer:

RAP-B-202U-GOP1

Beschikbaarheid:

Op voorraad

Levertijd:

Besteld op werkdag voor 15:30, volgende dag geleverd
B-kogel met koppeling aan de GoPro adapter. Vervangt de meegeleverde adapter. De GoPro is hierdoor op elk RAM systeem te bevestigen. Bijvoorbeeld stuurstang of zuignap-montage.

GoPro® cameras have reinvented how we capture some of the most exciting moments in our lives. Nearly two decades ago, RAM began reinventing mounting systems so that enthusiasts could use their cameras and video equipment like never before. RAM is proud to offer a sleek new adapter that will bring two revolutionary product lines together and open up a world of possibilities. While the GoPro® line of mounting accessories is nothing to scoff at, the diversity of the RAM product line is simply unmatched. Dream it. Live it. Capture it. RAM Mounting Systems and GoPro® make it possible to truly "Be a HERO™".

The RAP-B-202U-GOP1 consists of a 1" diameter rubber ball, connected to a custom GoPro® adapter. The adapter attaches directly to the under-side of the camera, replacing the factory mounting bracket.

Compatible Cameras:
GoPro HD HERO all types
Garmin VIRB X & VIRB XE
SJCAM SJ4000
SJCAM SJ5000X Elite 4K
Muvi veho K-Series K-2 Pro 4K
Xcel 1080C
Vivitar HD
ACTIVEON CX Gold
Discovery Kids Photo & Video Adventure Camera
Kyocera / Yashica YAC-400
AEE ACE S70 Black 16MP 2"
AKASO EK7000 4K WIFI Sports
AEDILYS 4K WIFI Sports
Lightdow LD4000 1080P HD
WiMiUS Q2 Black 1080P Wifi
Vtin 4k
Vtin WiFi


Features:
1. Patented rubber ball design dampens shock and vibration helping to extend the life of your camera.
2. Mount to many RAM double socket arms and mounts.
3. Multiple articulation and adjustment points for perfect viewing angles.
4. Lifetime warranty.

Material:
High Strength Composite

Ball Size:
1" Rubber Ball "B" Size

Note:
The "U" in the part number reflects product packaged in poly bag.


NB: alleen de kogel-adapter (foto1) de sets zijn ter illustratie van de mogelijkheden.
Informeer naar de setprijzen.