Brodit
houder/lader Kenwood Portofoon NX-200/300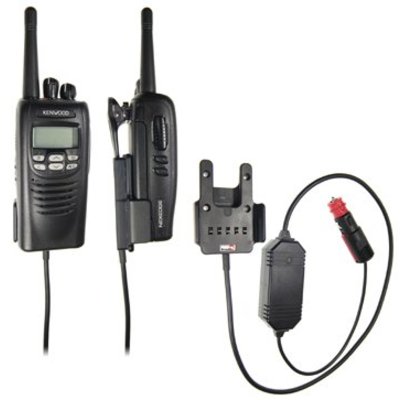 530188
Beschikbaarheid:

Op voorraad

Levertijd:

Besteld op werkdag voor 15:30, volgende dag geleverd
Product omschrijving
Merk:

Brodit

EAN:

7320285301887

Artikelnummer:

530188

Beschikbaarheid:

Op voorraad

Levertijd:

Besteld op werkdag voor 15:30, volgende dag geleverd
Deze houder/lader is voorzien van een 12/24V sig.aanstekerplug voor het laden van de telefoon/PDA/tablet. Zodra u het toestel in de houder plaatst, gaat deze laden. Aan de achterzijde van de houder bevindt zich een draaimechaniek, zodat de houder onder elke gewenste hoek afgesteld kan worden om hinderlijke reflectie tegen te gaan.
De houder is te monteren op Brodit en RAM Mounts bevestigingssystemen.
Kenwood NX-200 (For all countries)
Kenwood NX-300 (For all countries)
Kenwood TK-5220 (For all countries)
Kenwood TK-5320 (For all countries)


Features & Benefits
 Always keep your battery fully charged
 Made of high grade ABS plastic
 Charges Li-Ion or Li-Poly batteries
 Works in 12 and 24 volt vehicles
 Rapid and trickle charges radio
 LED Red to Green charging status indicator
 Custom fit to hold device securely
 Designed and manufactured in Sweden
 Allows one-handed insertion and removal of radio
 You can charge just the battery alone in the holder
 Works with or without belt clip on back of radio
 Charging cable attached to holder providing dock type connection
 Attach to ProClip Vehicle or Pedestal mounts
 Can also be attached directly to any flat surface,
dashboard, console wall, or any type of mounting bracket
Charging Specifications:
Battery Chemistry: NiCD or NiMH batteries and Li-Ion or Li-Polymer batteries
Input Voltage: 11-30 V
Output Voltage: Ni-based: 7.5 V, Lithium-based: 8.4V.
Timer for Max. Charging Time: Ni-based: Yes, Lithium-based: Automatic, stops at 8.4 V.
Max. Charging Time : 2-3 hours depending on battery capacity
Rapid Charge: 1A +/- 5%
Trickle Charge: Ni-based: 4 mA, Lithium-based: 0 to 50 mA
LED Charging Indicator: LED Red to Green indicator
Temperature Control: Ni-based: NTC-resistor in battery required, Lithium-based: Controlled by battery
Operating Temperature: -40 to 50 °C (can be restricted by battery chemistry)
RoHS Compliant: Yes
Input Transient Protected: Withstands +150V & -450V. A 2,5A fuse is mounted on the incoming supply.