RAM Mount
18" flexibel statief met spline post montage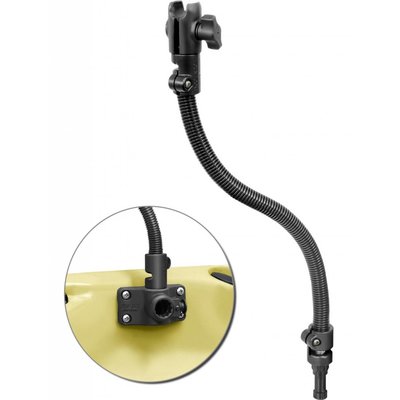 RAP-B-200-1-114P-18
Beschikbaarheid:

Op voorraad

Levertijd:

Besteld op werkdag voor 15:30, volgende dag geleverd
Buigbaar statief voor boot b.v GoPro RAP-B-200-1-114P-18 ...
Meer informatie
Product omschrijving
Merk:

RAM Mount

Artikelnummer:

RAP-B-200-1-114P-18

Beschikbaarheid:

Op voorraad

Levertijd:

Besteld op werkdag voor 15:30, volgende dag geleverd
Flexibel stevig maar buigbaar 48 cm lang statief van massief aluminium met kunststof mantel.
Onderzijde voorzien van spline post quick release voor boot of kayak montage. Bovenzijde voorzien van B-kogel koppeling.  Ideaal voor bijvoorbeeld GoPro of andere action camera op uw boot.
The RAP-B-200-1-114P-18U consists of a quick release female post spline adapter, 18" rigid aluminum rod and single socket arm for 1" ball bases/adapters. The spline adapter is compatible with all RAM post spline bases, as well as third party spline bases. The 18" rigid aluminum rod can be bent to position your device to its optimum viewing location. The single socket is compatible with all 1" ball bases and adapters.
Features:
1. Quick release and installation
2. High strength materials ensure product longevity
3. Suitable for marine environments
4. 18" rod can be bent and repositioned
5. Compatible with all RAM post spline bases
6. Extremely versatile for adapting to almost any application
7. Swivel/swing technology allows for easy turning of mount and prevents obstruction
8. Lifetime warranty
Material:
High Strength Composite & Aluminum
Ball Size:
1" Rubber Ball "B" Size