RAM Mount
2.5 inch buisklem set C-kogel en klemhouder RAM-101U-247-25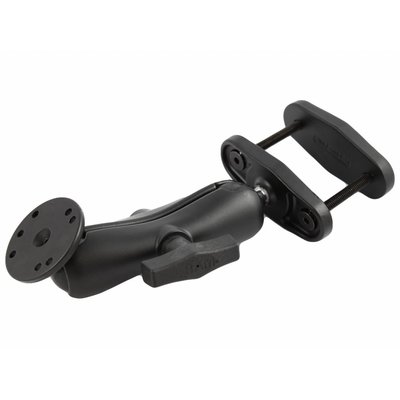 RAM-101U-247-25
Beschikbaarheid:

Op voorraad

Levertijd:

Besteld op werkdag voor 15:30, volgende dag geleverd
Product omschrijving
Merk:

RAM Mount

Artikelnummer:

RAM-101U-247-25

Beschikbaarheid:

Op voorraad

Levertijd:

Besteld op werkdag voor 15:30, volgende dag geleverd
Klemset voor bevestiging van RAM mounts aan b.v. heftruck of machines. C-Kogel aansluiting. Voor stangen, buizen of kooien tot 63 cm (2.5 inch) breedte. De maximale dikte tussen de klemplaten is 54 mm (2 1/8 ")
Geschikt voor ophangen van laptops, tablets, scanners en zware apparaten aan machines en voertuigen in zwaardere omstandigheden.
Set bestaat uit:
RAM-247U-25 RAM 2.5" square rail clamp base with 1.5" ball.
RAM-202U C-kogel ronde base plaat
RAM-201U Klemhouder middel (circa 15 cm)

Optie: 9 cm Korte (RAM-201U-B) of 23 cm lange klemhouder (RAM-201U-D).


The RAM-101U-247-25 consists of a double socket arm, round 2.5" diameter round base with the universal AMPS hole pattern and 2.5" clamp base. The clamp base will wrap around a maximum width of 2.5" and is tightened by screwing the two plates together with the included nuts and bolts. Rubber ball, socket technology dampens shock and vibration, as well as allows for almost infinite adjustment, perfect viewing angles.

De bouten zijn voorzien van inbus met Amerikaanse inch maten.