RAM Mount
Verleng statief camera montage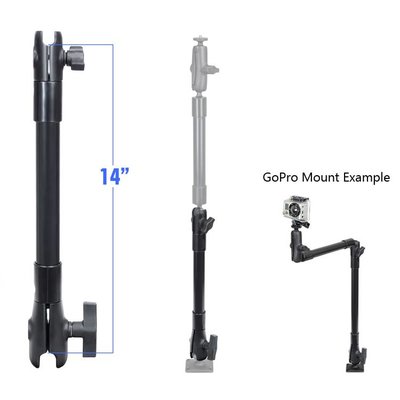 RAP-CB-201-14U
Beschikbaarheid:

Op voorraad

Levertijd:

Besteld op werkdag voor 15:30, volgende dag geleverd
Composiet verlengingsbuis voor bijvoorbeeld camera montage RAP-CB-201-14 ...
Meer informatie
Product omschrijving
Merk:

RAM Mount

EAN:

793442940453

Artikelnummer:

RAP-CB-201-14U

Beschikbaarheid:

Op voorraad

Levertijd:

Besteld op werkdag voor 15:30, volgende dag geleverd
Verlenging buis voor b.v. camera (GoPro) montage op boot. De totale lengte van koppeling tot koppeling is 35 cm. De base zijde heeft een C-Kogel aansluiting, de topzijde een B-Kogel voor b.v. camera kogel. Beide kogel klemmen zijn inbegrepen.
Dit statief kan nog verlengd worden met de
RAP-BB-230-14-201
set. Waardoor er een nog flexibelere oplossing ontstaat.
The RAP-CB-201-14U consists of a SHORT extension pole and 1" and 1.5" ball single open sockets. The socket ends can swivel 360 degrees; this allowing for you to rotate your camera adapter in any direction.

Dimensions:
Pole Length (Socket End to Socket End): 14" (35 cm)

Features:
1. Extension poles are buoyant, will float if dropped in the water.

2. All components are plastic or stainless steel making this camera system the perfect solution for many outdoor activities, including saltwater applications.

3. Light weight, easily adjustable and packable. Easily break down your camera system to stow when not in use.

4. Modular system allows for infinite configurations. Easily capture self-portrait images from water level, overhead shots and even underwater images of your latest catch.

5. Easily rotate the mounted camera to operate on-board functions, check shot angles and other critical adjustments.

6. Lifetime warranty

7. Made in USA

Material:
High Strength Composite

Ball Size:
1" Rubber Ball "B" Size


NB:
De montage C-Kogel aan boot ed.  is niet inbegrepen (naar eigen keuze composiet of aluminium), zie hieronder.
De Camera B-Kogel is niet inbegrepen (b.v. RAM-B-237, RAP-B-366 of GoPro RAM Kogel), zie hieronder.
De PVC buis en de kogel uiteinden moeten met PVC lijm zelf aan elkaar gelijmd worden.