RAM Mount
Dubbele Zuignap X-Grip set 10 inch tablets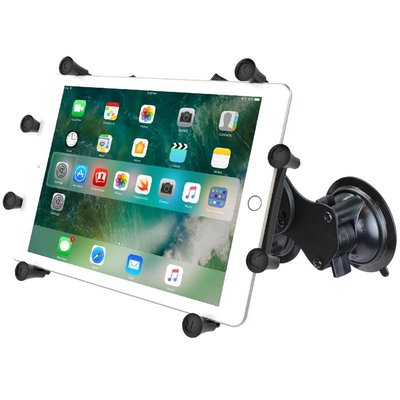 RAM-B-189-UN9U
€149,95
€123,93 Excl. btw
Beschikbaarheid:

Op voorraad

Levertijd:

Besteld op werkdag voor 15:30, volgende dag geleverd
2x Zuignap, flexibele arm en 10" klemhouder RAM-HOL-UN9U ...
Meer informatie
Product omschrijving
Merk:

RAM Mount

Artikelnummer:

RAM-B-189-UN9U

Beschikbaarheid:

Op voorraad

Levertijd:

Besteld op werkdag voor 15:30, volgende dag geleverd
Zeer stabiele tablethouder set, geschikt voor nagenoeg alle 10"tablets. Speciaal geschikt voor ruig gebruik in b.v. 4WD of op de boot.
Deze tabletset kan de tablet gemakkelijk aan de autoruit bevestigt worden. De zuignap is ook geschikt voor andere gladde oppervlaktes b..v. tegels of polyester boot.
Met een draai aan de knop kan de kijkhoek aangepast worden. De tablet kan gemakkelijk uit de houder verwijderd worden. Stevig materiaal met o.a. aluminium klemhouder en kogels met rubber coating.

De nieuwe X-Grip RAM-HOL-UN9U bestaat uit een composiet veerhouder, verstelbare grip armen en extra bodem ondersteuning. Inbegrepen zijn extra gemakkelijk grip knoppen, op de achterkant van de houder voor quick release van het tablet. De RAM-HOL-UN9U rekt uit en krimpt voor een perfecte pasvorm van de meeste 10 "tabletten met of zonder hoes, evenals een aantal kleinere tabletten. U kunt hieronder controleren of afmetingen van het tablet compatible zijn met de X-Grip™.


Set bestaat uit:

RAM-B-189BU Universele dubbele zuignapbevestiging
Complete set bestaand uit RAM-B-189BU dubbele zuignap en klemhouder met 2 ronde B-kogels RAM-B-101U. Zeer geschikt voor montage van electronica in auto, boot of vliegtuig.


RAM-B-189BU: Geschikt voor zwaardere toepassingen en veeleisende omstandigheden. stalen base plat plus 2x twistlock zuignap.

2. Ram-HOL-UN9U X-Grip  universele tablet houder
The new RAM X-Grip  line of products just got bigger and better. This new model is just what you've been looking for to hold your favorite tablet. Just like the devices it was made for, it is everything you need and nothing you don't. Simple to open and close, the spring loaded RAM X-Grip  leaves the outside edge of your tablet almost completely free of annoying obstructions. Soft rubber fingers apply just enough force to keep your tablet in safe and secure. Compatible with a wide range of mounting solutions, your tablet is sure to find a home no matter where your travels take you.

The RAM-HOL-UN9U consists of a composite spring loaded holder, expandable grip arms and additional bottom support keeper. Included are extra easy access grip knobs, located on the back of the holder for quick release of your tablet. The RAM-HOL-UN9U expands and contracts for perfect fit of most 10" tablets with or without sleeves, as well as some smaller tablets. Please verify dimensions of your tablet below for compatibility with the X-Grip™.

Compatible Devices (WITH OR WITHOUT CASE):
Apple iPad Air 1/2/ iPad 9.7 2017/2018
Apple iPad 1-4
Apple iPad Pro 9.7/10.5/11
Samsung Galaxy Tab A 9.7/10.1/10.5
Samsung Galaxy Tab S 10.5
Samsung Galaxy Tab S2/S3 9.7/ S4 10.5
Most 10" Screen Tablets
Microsoft Surface Go 10 (zonder keyboard)



All devices that maintain the following dimensions below:

Holder Dimensions:
Minimum Width = 6.25" (15,9 cm)
Maximum Width = 8.1" (20.6 cm)
Depth = 0.875" (2,2 cm)

Features:
1. Spring loaded holder expands and contracts for perfect fit of your tablet
2. Rubber coated tips will hold your tablet firm and stable
3. Versatility of holder allows for attachment to many 1" socket mounts
4. Socket technology allows for multiple adjustment angles and articulation of your tablet
5. Easy access grip knobs, located on the back of the holder for quick release of your tablet
6. Multiple mounting access points on the back of the holder
7. Additional support keeper at the bottom of the holder
8. Will not interfere with electronic ports, speakers and camera

Material:
High Strength Composite with Rubber Tips




Bekijk ook onze overige tablethouders voor in de auto.
Bekijk ook onze overige iPadhouders voor de auto.