RAM Mount
Heavy Duty Industrial en Logistic Tablethouder set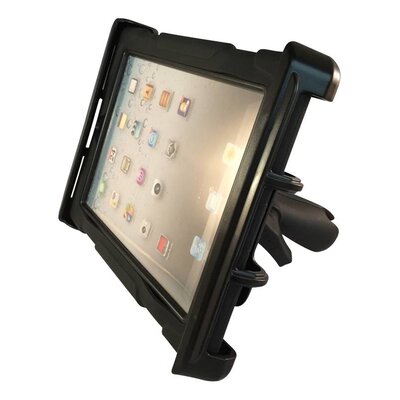 RAM-103U-TAB-LGU
Beschikbaarheid:

Op voorraad

Levertijd:

Besteld op werkdag voor 15:30, volgende dag geleverd
Heftruck C-maat Montageset voor 10" tablets m/z case, keuze montage ...
Meer informatie
Product omschrijving
Merk:

RAM Mount

Artikelnummer:

RAM-103U-TAB-LGU

Beschikbaarheid:

Op voorraad

Levertijd:

Besteld op werkdag voor 15:30, volgende dag geleverd
Speciaal door Emounting samengestelde set voor veel eisende omgevingen zoals logistiek (heftrucks), productie, landbouw, zwaar transport etc. Deze basis set bestaat uit RAM Mount Tab-tite klemhouder geschikt voor 10" tablets met of zonder beschermende cases. De houder is geschikt voor o.a. Griffin, Gumdrop, Joy factory en Lifeproof cases.

In deze set zijn opgenomen een verbindende RAM C-kogel op de achterzijde van de tablethouder en een medium C-klemhouder RAM-201U. Zie ook optie mogelijkheden voor kortere of langere klemhouder.

SET samenstelling
1x RAM-HOL-TAB-LGU (basis, zie opties)
1x RAM-202U kogel
1x RAM-201U klemhouder (zie optie voor korte en lange klemhouder)

Voor de bevestiging aan uw voertuig hebben we diverse mogelijkheden (zie hieronder). Dit is afhankelijk van uw gebruiksomgeving. Komt u er niet uit dan geven we graag advies.


De RAM Tab-Tite cradle heeft een veermechanisme waardoor de tablet snel te verwijderen is uit de cradle. Met uitwisselbare uiteinden is is deze houder maximaal flexibel. Alle knoppen en uitgangen blijven bereikbaar. Ook geschikt voor iPad met bumpercase (zie afmetingen) .
Get the most out of your tablet with the RAM Tab-Tite™ universal clamping cradle. With 2 sets of interchangeable cup ends, ranging from different sizes and features, you can fit the holder to your tablet for a near custom fit. This spring loaded design makes it easy to load and unload your tablet, along with keeping it secure while on the go. Cup ends are designed to optimize the functionality of your tablet, allowing access to audio jacks, usb, power, and other ports, your tablet can be used just as it was intended. Perfect for stationary or on the go applications, this new RAM product is just what you need to get the most out of your mobile device.

Compatible Devices:
10" Tablets with LifeProof nüüd cases
10" Tablets with Lifedge cases
10" Tablets with Heavy duty cases (Griffin, Otterbox, Gumdrop etc)
Apple iPad 1/2/3/4/AIR
Samsung Galaxy TAB 10.1

Included With Purchase:
(1) Spring loaded back plate
(2) Support cups for thin tablets
(2) Support cups for wide tablets
Mounting hardware

The Tab-Tite™ cradle is compatible with any tablet that will fit the dimensions listed below. It is important to verify the dimensions of your tablet with a case/sleeve/skin when determining the overall size.
Er zitten 2 verschillende houders (cradle) bij om de Tab-Tide geschikt te maken voor meerdere maten tablets.
Check vooral de maten van uw tablet met de onderstaande specificaties (gemeten in portrait stand).
Cradle 1 Dimensions:
Hoogte: 21,6 cm  minimum tot 27,3 cm maximum
Breedte: Maximum tot 19,7 cm
Dikte hoeken: Maximum tot 1,4 cm
Cradle 2 Dimensions (extra dikke cases):
Hoogte: 22,2 cm  minimum tot 27,3 cm maximum
Breedte: Maximum tot 21,0 cm
Dikte hoeken: Maximum tot 2,8 cm
Features:
1. Support cups contain open slots to accommodate for tablets of various sizes
2. Back plate can support various size support cups
3. Spring loaded tension provides secure support for your tablet
4. Spring loaded cradle allows for quick release of your tablet
5. Full access to all ports


Material:
High Strength Composite

Opties voor specifieke tablets:
10 inch universeel met/zonder case (TAB-LGU)
iPad Air/9.7 MET case (TAB20)
iPad 2/3/4 MET case ( TAB8)
Galaxy TAB A/ S2 9.7/ A 10.1/ A 10.5 MET case (TAB20U)
Galaxy TAB A 10.1 ZONDER case (TAB28U)
iPad Air/9.7 ZONDER case (TAB6U)

Ander tablet: vraag ons om advies!

LET OP: u moet nog een keuze maken hieronder voor de bevestiging aan uw voertuig of andere toepassing!

Beschermende tablet case niet inbegrepen. Zie hier ons assortiment


Bekijk ook onze overige tablethouders voor in de auto.
Bekijk ook onze overige iPadhouders voor de auto.