RAM Mount
klemhouder Panasonic Toughpad FZ-G1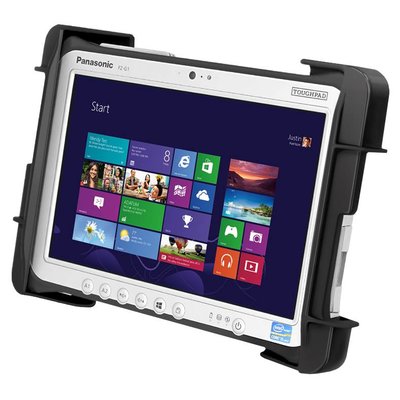 RAM-HOL-TAB19U
Beschikbaarheid:

Op voorraad

Levertijd:

Besteld op werkdag voor 15:30, volgende dag geleverd
Product omschrijving
Merk:

RAM Mount

EAN:

793442941221

Artikelnummer:

RAM-HOL-TAB19U

Beschikbaarheid:

Op voorraad

Levertijd:

Besteld op werkdag voor 15:30, volgende dag geleverd
De RAM Tab-Tite cradle heeft een veermechanisme waardoor de tablet snel te verwijderen is uit de cradle. knoppen en uitgangen blijven bereikbaar.

NB: alleen de houder; foto's 4-8 zijn slechts ter illustratie van de mogelijkheden van montage.

The RAM-HOL-TAB19U consists of a spring loaded back plate and custom support cups for the Panasonic Toughpad FZ-G1. The spring loaded design makes it easy to load and unload your tablet, along with keeping it secure while on the go. Interchangeable cup ends are designed to optimize the functionality of your tablet, allowing access to audio jacks, usb, power, and other ports, your tablet can be used just as it was intended. Perfect for stationary or on the go applications, the RAM-HOL-TAB19U is just what you need to get the most out of your tablet.
The RAM Tab-Tite™ cradle is compatible with the following tablets:
Panasonic Toughpad FZ-G1 without case
Cradle Dimensions:
Height: 10.75" to 13.375" ( 33.4 cm)
Width: 6.5" to 7.75" (19,6 cm)
Depth: 0.13" to 0.93" (23.5)

Tab-Tite™ Cradle Features:
1. Support cups contain open slots to accommodate for tablets of various sizes
2. Back plate can support various size support cups
3. Spring loaded tension provides secure support for your tablet
4. Spring loaded cradle allows for quick release of your tablet
5. High strength materials maximize longevity of cradle
6. Full access to all ports
7. Lifetime warranty

Material:
High Strength Composite

Voor montage aan RAM parts de de RAM-B-202U kogel nodig (zie hieronder).