RAM Mount
STACK-N-STOW™ Bait Board RAP-395U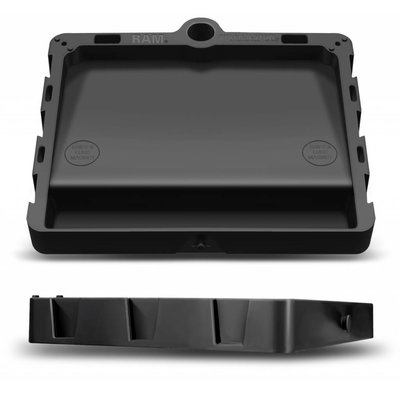 RAP-395U
Beschikbaarheid:

Op voorraad

Levertijd:

Besteld op werkdag voor 15:30, volgende dag geleverd
Product omschrijving
Merk:

RAM Mount

Artikelnummer:

RAP-395U

Beschikbaarheid:

Op voorraad

Levertijd:

Besteld op werkdag voor 15:30, volgende dag geleverd
Multi-functionele tray te gebruiken op visboten en kayaks. Naast een handig schuin aflegvlak met 2 ingebouwde magneten, kunnen er tal van accessoires gemonteerd worden zoals zelfbalancerende drinkcup, GoPro camera, iPhone etc. Daarvoor is de tray uitgerust met 6 wigvormige koppelingen en 2 plekken bovenop geschikt voor kogelmontage.
De bodem heeft en AMPS rond gatenpatroon dwz kan op een RAM mount gemonteerd worden. Tevens is er een uitsparing geschikt voor 1" (25 mm) paalmontage.
Afmetingen (250 x 330 * 41 mm)
High strenght Composite
The RAP-395U includes a magnetic surface for bait knife, hooks, lures or any ferrous metal item, never again scramble to find your essential tools while on the water. Integrated features for hanging tools, lures, clippers, mounting a GoPro® camera, cup holders and much more, this bait board is a feature rich option for the savvy angler. With the universal AMPs hole pattern, located on the bottom of the board, easily integrate the bait board to your existing mount, or choose from an assortment of RAM compatible mounts. The bait board will also accomodate pipes and extension poles with a diameter of 1", and with a fish on the line, quickly rotate the bait board away from the action. Tightening of the included knob will resecure the bait board.
Dit is alleen de Bait Board, de accessoires moeten los bijgekocht worden, zie hieronder.
Aanbeveling montage kogel C-maat: aluminium RAM-202U of composiet RAP-202U.