RAM Mount
Tough-Claw™ Mount Zelfbalancerende Cup Holder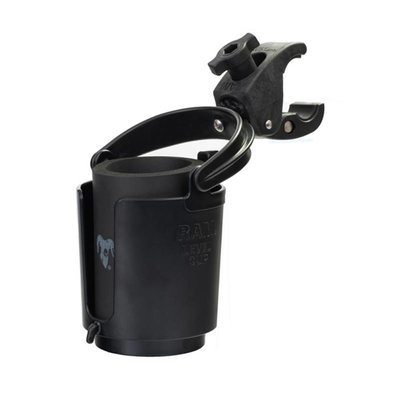 RAM-B-132-400U
Beschikbaarheid:

Op voorraad

Levertijd:

Besteld op werkdag voor 15:30, volgende dag geleverd
Tough-Claw™ Mount Zelfbalancerende Cup Holder met Stang en tafelblad montage RAM-B-132-400U ...
Meer informatie
Product omschrijving
Merk:

RAM Mount

EAN:

0793442945045

Artikelnummer:

RAM-B-132-400U

Beschikbaarheid:

Op voorraad

Levertijd:

Besteld op werkdag voor 15:30, volgende dag geleverd
Unieke RAM Mount zelfbalancerende bekerhouder geschikt voor op de motor, boot, offroad rijden etc. Met vaste Tough-Claw kan deze op stangen en bladen tot  gemonteerd worden. Inclusief originele RAM beker en blikjes koeler.
Met schroefklem voor muurvaste fixering op ronde en rechte stangen tussen 1.6 en 3.8 cm. Ook geschikt voor tafelbladmontage (dikte tot 2.9 cm) b.v. in hobbyruimte of werktafel.


The RAM-B-132-400U consists of the small Tough-Claw™ base and universal self-leveling drink cup holder. The drink cup holder has two pivot points, allowing for your drink to always stay upright and never spill. Cozy is included with purchase of the RAM-B-132-400U. This mount rotates 360 degrees.

The RAM-B-132-400U includes the RAM Tough-Claw™; the perfect mounting base for quick and easy tool-less installation and removal on round, square, odd shaped rails and bars and flat surfaces. The compact design allows easy installation in a wide variety of applications including motorcycles, kayaks and boats, bicycles, wheelchairs, medical carts and more. The marriage of tool-less removal and a low-profile makes this must have accessory easy to pack with you wherever you go.

Clamping Range (Rail/Tube Surfaces):
0.625" - 1.5"  (1.6 max 3.8 cm)

Clamping Range (Flat Surfaces):
0" to 1.14" (0 max 2.9 cm)

Physical Dimensions Tough-Claw:
Height: 4.25" (10.28 cm)
Width: 1.18"  (3 cm)

Material:
High Strength Composite & Stainless Steel

Compatible with any cups, cans, bottles or mugs ranging from 2.5" to 3.5" diameter. (max 8.9 cm diameter).