RAM Mount
Universal Small Portable Printer Cradle Small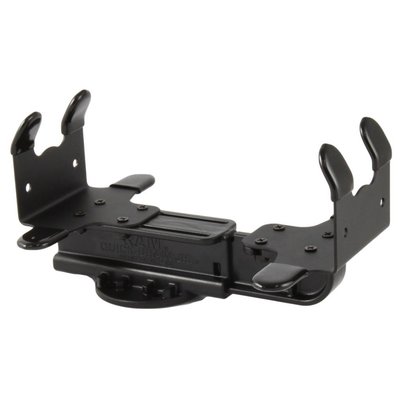 RAM-VPR-104
Beschikbaarheid:

Op voorraad

Levertijd:

Besteld op werkdag voor 15:30, volgende dag geleverd
Printer mount met klemhouder (korte klemmen) RAM-VPR-104 ...
Meer informatie
Product omschrijving
Merk:

RAM Mount

Artikelnummer:

RAM-VPR-104

Beschikbaarheid:

Op voorraad

Levertijd:

Besteld op werkdag voor 15:30, volgende dag geleverd
Klemhouder geschikt voor diverse printers (check maten en zie voorbeeld foto's)
Voor de montage op RAM systemen is een RAM-202U C-Kogel nodig (niet inbegrepen).
The new Quick Draw™ Jr. holders for small printers are a must have for companies utilizing these devices. The patent pending spring loaded design is universal and works with practically every popular printer in use today. With mounting kits that will accommodate a multitude of vehicles including Fork Lifts, Delivery Vans, Cars, Trucks, and more, choosing the right kit is simple. Whether you want the mount to the left or right of the operator/driver, attached to square stock or round, or any flat surface, you can be confident there is the perfect system for your project needs. Some kits offered come with the patented rubber ball and socket design. Not only does this dampen shock and vibration, but also lends itself to unmatched adjustability. Integrate this kit into your existing RAM system or combine it with any of our vehicle mounts.
The RAM Quick Draw™ Jr. holder uses a unique patent pending spring loaded mechanism that holds strong, yet provides easy removal for printer storage. At each end of the holder are side clamping plates that are designed to fit cleanly around the edges of a printer.
Clamping Dimensions:
Dimensions (RAM-VPR-104 Short Side Clamps):


Min Width: 5.625"
Max Width: 10" (25,4 cm)
Height Clearance for Printer: 2.25" (5,7 cm)
Material:
Powder Coated Marine Grade Aluminium