RAM Mount
Vertical Mounting Base with Double 6" Swing Arm and Swivel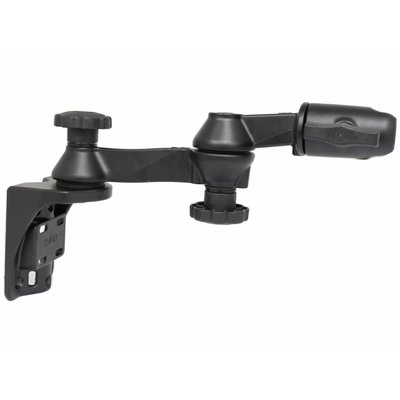 RAM-109VS-5NBU
Beschikbaarheid:

Niet op voorraad

Levertijd:

In bestelling bij leverancier
Product omschrijving
Merk:

RAM Mount

Artikelnummer:

RAM-109VS-5NBU

Beschikbaarheid:

Niet op voorraad

Levertijd:

In bestelling bij leverancier
Vertical cast base/bracket for the RAM swing arm mount system met 30 cm lange dubbele swingarm. Voor de montage van RAM houders is een RAM-202U C-kogel nodig.
Consists of (2 qty) 6" long single swing arms, Tele-Pole
™
connection hole and swivel single socket that will accommodate 1.5" ball bases. The two swing arms connect with a bolt and knob system. With a simple turn of the knob you can pivot the swing arms at this center point and the tighten the knob to lock the arms in place. The swivel single socket arm allows you to twist and tilt the viewing angle of your laptop, tablet, UMPC, monitor, or any other connected electronic device, when mounted on your RAM Vehicle Mount. Taking the highly successful RAM Vehicle Mounts to the next level, this rotating swivel arm gives you even more viewing positions for your mounted electronic device while holding everything firmly in place.