RAM Mount
Universal X-Grip™ for Large Phones/Phablets -Snap-Link™ Socket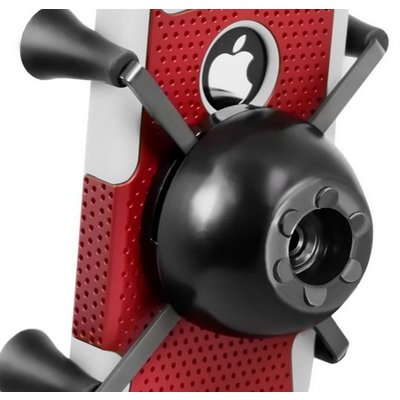 RAM-HOL-UN10U
Beschikbaarheid:

Niet op voorraad

Levertijd:

In bestelling bij leverancier
X-Grip houder UN10U grote smartphones, iPhone 6(S) Plus ZONDER kogel ...
Meer informatie
Product omschrijving
Merk:

RAM Mount

Artikelnummer:

RAM-HOL-UN10U

Beschikbaarheid:

Niet op voorraad

Levertijd:

In bestelling bij leverancier
X-Grip houder UN10U grote smartphones, Phablets,  iPhone Plus ZONDER B-Kogel; alleen geschikt voor Snap-Link bevestiging.

The X-Grip™ IV has a clean and clever four leg design that sports great holding power without hiding your phone or phablet behind foam pads and plastic. The perfect complement to the modern sleek interior of today's vehicles, the X-Grip™ IV is the phablet holder evolved. Compatible and interchangeable with a wide range of popular RAM Mounting products, this elegant holder is ready to compliment your phablet and become the most useful accessory in your vehicle.


Optie: RAM Mount Tether:
De X-Grip Tether wordt aanbevolen voor out-of-cockpit motor toepassingen waar door overmatige wind en G-krachten bewegingen van het apparaat in de houder kunnen ontstaan. Of voor offroad gebruik van de X-Grip op een mountainbike. Het is ook geweldig als je gewoon een beetje extra stabiliteit en demping van trillingen wilt bij het vastleggen van video. De Tether is gemaakt van hoogwaardig elastomeer materiaal en past eenvoudig rond de X-Grip.

Compatible Devices:
HTC Droid DNA
Huawei Ascend P1
LG Intuition
Nokia Lumia 920
Pantech Vega No. 6
Samsung GALAXY Mega 5.8
Samsung GALAXY Mega 6.3
Samsung GALAXY Note II
Samsung Galaxy Note 2/3/4
Nexus 5/6
iPhone 6(S) PLus
Samsung Galaxy S5 Active

The X-Grip™ IV holder is compatible with handheld devices that will fit the dimensions listed below. It is important to verify the dimensions of your handheld device with a case/sleeve/skin when determining the overall size.

Holder Dimensions:
Minimum Width = 1.75" (4,4 cm) (minimum hoogte 13.90 cm)
Maximum Width = 4.5" (11,4 cm) (minimum hoogte 8,26 cm)

Features:
1. Rustproof
2. High strength composite and stainless steel construction
3. Spring loaded holder expands and contracts for perfect fit of your device
4. Rubber coated tips will hold device firm and stable
6. Lifetime warranty

Material:
High Strength Composite & Stainless Steel


Note:
RAM Highly Recommends adding a secondary tethering device for all open cockpit applications while using this product. This product is NOT suitable for Motorcycle/ATV use.

Dit is alleen de houder, zie onze combinaties sets voor montage opties