RAM Mount
Zuignap 10" tablets RAM-B-166-TAB-LGU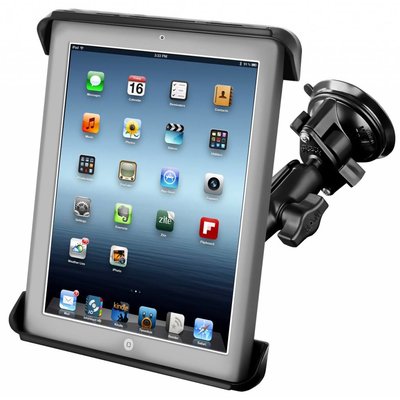 RAM-B-166-TAB-LGU
Beschikbaarheid:

Op voorraad

Levertijd:

Besteld op werkdag voor 15:30, volgende dag geleverd
Zuignap, flexibele arm en tablet klemhouder RAM-HOL-TAB-LGU ...
Meer informatie
Product omschrijving
Merk:

RAM Mount

EAN:

0793442937828

Artikelnummer:

RAM-B-166-TAB-LGU

Beschikbaarheid:

Op voorraad

Levertijd:

Besteld op werkdag voor 15:30, volgende dag geleverd
Deze tabletset kan de tablet gemakkelijk aan de autoruit bevestigt worden. De zuignap is ook geschikt voor andere gladde oppervlaktes b..v. tegels of polyester boot.
Met een draai aan de knop kan de kijkhoek aangepast worden. De tablet kan gemakkelijk uit de houder verwijderd worden. Stevig materiaal met o.a. aluminium klemhouder en kogels met rubber coating.
Set bestaat uit:

RAM RAM-B-166U Universele zuignapbevestiging
The RAM-B-166U consists of a double socket arm, 3.25" suction cup twist lock base and diamond base adapter. The suction cup base is designed to have a strong hold on glass and non-porous plastic surfaces.
The mount is designed with a RAM 1" diameter patented rubber ball and socket system that has adjustment points, at both ends of the double socket arm; this allowing for almost infinite adjustment and perfect viewing angles. The hole pattern found on the diamond base adapter will connect to most RAM cradles
Material:
High Strength Composite & Powder Coated Marine Grade Aluminum (dus geen goedkoop plastic)
Ball Size:
1" Rubber "B" Ball Size 
Total height 13 cm
RAM Tab-tite universele 10" tablethouder RAM-HOL-TAB-LGU
De RAM Tab-Tite cradle heeft een veermechanisme waardoor de tablet snel te verwijderen is uit de cradle. Met uitwisselbare uiteinden is is deze houder maximaal flexibel. Alle knoppen en uitgangen blijven bereikbaar. Ook geschikt voor iPad met bumpercase (zie afmetingen)
.
Get the most out of your tablet with the Universal RAM Tab-Tite™ cradle. With 2 sets of interchangeable cup ends, ranging from different sizes and features, you can fit the holder to your tablet for a near custom fit. This spring loaded design makes it easy to load and unload your tablet, along with keeping it secure while on the go. Cup ends are designed to optimize the functionality of your tablet, allowing access to audio jacks, usb, power, and other ports, your tablet can be used just as it was intended. Perfect for stationary or on the go applications, this new RAM product is just what you need to get the most out of your mobile device.
Compatible Devices:
10" Tablets with LifeProof nüüd cases
10" Tablets with Lifedge cases
10" Tablets with Heavy duty cases (Griffin, Otterbox, Gumdrop etc)


Included With Purchase:
(1) Spring loaded back plate
(2) Support cups for thin tablets
(2) Support cups for wide tablets
Mounting hardware

The Tab-Tite™ cradle is compatible with any tablet that will fit the dimensions listed below. It is important to verify the dimensions of your tablet with a case/sleeve/skin when determining the overall size.
Er zitten 2 verschillende houders (cradle) bij om de Tab-Tide geschikt te maken voor meerdere maten tablets.
Check vooral de maten van uw tablet met de onderstaande specificaties (gemeten in portrait stand).
Cradle 1 Dimensions:
Hoogte: 21,6 cm  minimum tot 27,3 cm maximum
Breedte: Maximum tot 19,7 cm
Dikte hoeken: Maximum tot 1,4 cm
Cradle 2 Dimensions (extra dikke cases):
Hoogte: 22,2 cm  minimum tot 27,3 cm maximum
Breedte: Maximum tot 21,0 cm
Dikte hoeken: Maximum tot 2,8 cm
Features:
1. Support cups contain open slots to accommodate for tablets of various sizes
2. Back plate can support various size support cups
3. Spring loaded tension provides secure support for your tablet
4. Spring loaded cradle allows for quick release of your tablet
5. Full access to all ports
Material: