RAM Mount
Toughball B-Kogel M6 bout met X-Grip houder Large smartphone set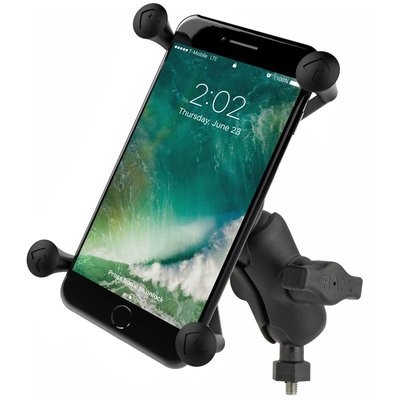 RAM-HOL-UN10B-A-379-M616U
Beschikbaarheid:

Op voorraad

Levertijd:

Besteld op werkdag voor 15:30, volgende dag geleverd
Toughball B-Kogel M6 bout met X-Grip houder Large smartphone set ...
Meer informatie
Product omschrijving
Merk:

RAM Mount

Artikelnummer:

RAM-HOL-UN10B-A-379-M616U

Beschikbaarheid:

Op voorraad

Levertijd:

Besteld op werkdag voor 15:30, volgende dag geleverd
Complete set om uw iPhone Plus of Smartphone te monteren en te bevestigen met een M6 schroefbout.  Bijvoorbeeld op boot, dashboard, werkbank, wand etc, etc. Dankzij aluminium klemhouder en rubberen kogels optimaal instelbaar, goed te fixeren en demping van trillingen.

De set bestaat uit:
1x RAP-B-379U-M616
1x RAM-201U-A; korte aluminium klemarm
1x RAM-HOL-UN10BU Large X-Grip smartphone


Nu met GRATIS RAM Mount Tether:
De X-Grip Tether wordt aanbevolen voor out-of-cockpit motor toepassingen waar door overmatige wind en G-krachten bewegingen van het apparaat in de houder kunnen ontstaan. Of voor offroad gebruik van de X-Grip op een mountainbike. Het is ook geweldig als je gewoon een beetje extra stabiliteit en demping van trillingen wilt bij het vastleggen van video. De Tether is gemaakt van hoogwaardig elastomeer materiaal en past eenvoudig rond de X-Grip.



Specs RAP-B-379U-M616:
RAM composiet B-kogel met stalen bout. Kan aan tal van objecten en voorwerpen vastgemaakt worden om vervolgens RAM compatible te maken. Bijvoorbeeld op boot, dashboard, werkbank, wand etc, etc. Let op de maat en draad van de bout.


Introducing the new RAM Tough-Ball™. Why call it tough? Because this latest addition to the RAM product line has steel inside and out. The seamless transition between RAM versatility and steel durability allows for a multitude of real world, and out of this world, applications. With so many of the things we use incorporating threads and fasteners, there really is no limit to the number of uses you'll find for the RAM Tough-Ball™.

The RAP-B-379U-M616 consists of a 1" diameter rubber ball, connected to a M6-1 X 6MM male threaded post.

Metric Thread Diameter and Pitch Options::
M6-1 X 6MM
Lengte bout 6 mm

X-Grip specs:
Universele X-Grip houder met 1inch bal voor mobiele telefoon. De RAM X-Grip heeft een vernuftig design met 4 poten die verstelbaar zijn. Compatible met een breed scala aan RAM Mounts. Kenmerken:Perfecte pasvorm door verstelbare poten. Rubberen uiteinden houden de smartphone goed vast. Inclusief B-kogel passend op RAM B-systeem.

The X-Grip™ has a clean and clever four leg design that sports great holding power without hiding your phone or phablet behind foam pads and plastic. The perfect complement to the modern sleek interior of today's vehicles, the X-Grip™ is the phablet holder evolved. Compatible and interchangeable with a wide range of popular RAM Mounting products, this elegant holder is ready to compliment your phablet and become the most useful accessory in your vehicle.

Compatibel met:
Apple iPhone 6s Plus, Apple iPhone 7 Plus, Apple iPhone 8 Plus, Apple iPhone Xs Max
Garmin Drive 51 LM, Garmin Drive 61 LM, Garmin DriveSmart 51 LMT-S, Garmin DriveSmart 61 LMT-S, Garmin DriveTrack 71, Garmin RV 660LMT, Garmin RV 770 LMT-S
Google Pixel 2 XL
HTC Bolt, HTC U Ultra
LG Fiesta 2 LTE, LG Fiesta LTE, LG Harmony, LG Stylo 2 V, LG Stylo 3, LG Stylo 3 Plus Titan, LG V20
LG X charge, LG X venture
Motorola moto e4 plus, Motorola moto z2, Motorola moto z2 play
Samsung Galaxy A7, Samsung Galaxy A7 (2017), Samsung Galaxy A8, Samsung Galaxy A8 (2016)
Samsung Galaxy A9 (2016), Samsung Galaxy A9 Pro (2016), Samsung Galaxy C7, Samsung Galaxy C7 Pro, Samsung Galaxy C9 Pro, Samsung Galaxy E7
Samsung Galaxy Grand Neo Plus, Samsung Galaxy J7, Samsung Galaxy J7 Max, Samsung Galaxy J7 V
Samsung Galaxy Note 5, Samsung Galaxy On7, Samsung S10+
Sony Xperia C4,Sony Xperia L2, Sony Xperia XA Ultra, Sony Xperia XA1 Ultra, Sony Xperia XA2 Ultra ,Sony Xperia XZ Premium
The X-Grip™ holder is compatible with handheld devices that will fit the dimensions listed below. It is important to verify the dimensions of your handheld device with a case/sleeve/skin when determining the overall size.

Holder Dimensions:
Minimum Width = 1.75" (4,4 cm)
Maximum Width = 4.5" (11,4 cm)

Features:
1. Rustproof
2. High strength composite and stainless steel construction
3. Spring loaded holder expands and contracts for perfect fit of your device
4. Rubber coated tips will hold device firm and stable
5. Versatility of holder allows for attachment to many RAM ball mounts
6. Lifetime warranty
Bekijk ook onze andere telefoonhouders voor de motor.