RAM Mount
Tab-Tite 10" tablet double suction base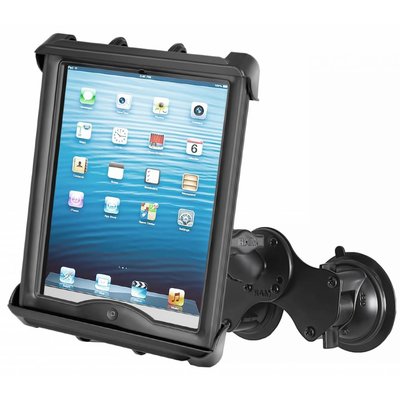 RAM-B-189-TAB8U
Beschikbaarheid:

Op voorraad

Levertijd:

Besteld op werkdag voor 15:30, volgende dag geleverd
Klemhouder dikkere tablets twee zuignappen RAM-B-189-TAB8U ...
Meer informatie
Product omschrijving
Merk:

RAM Mount

EAN:

0793442939648

Artikelnummer:

RAM-B-189-TAB8U

Beschikbaarheid:

Op voorraad

Levertijd:

Besteld op werkdag voor 15:30, volgende dag geleverd
Geschikt voor zwaardere toepassingen en veeleisende omstandigheden. stalen base plat plus 2x twistlock zuignap. De RAM Tab-Tite cradle heeft een veermechanisme waardoor de tablet snel te verwijderen is uit de cradle.  Alle knoppen en uitgangen blijven bereikbaar. Ook geschikt voor tablet met dikkere bumpercase zoals Otterbox Defender en Griffin Survivor (zie afmetingen) .



The RAM-B-189-TAB8U consists of a double 3.25" twist lock suction cup base, double socket arm, diamond base adapter and Tab-Tite™ universal clamping cradle. The suction cup base is designed to have a strong hold on glass and non-porous plastic surfaces. The mount is designed with a RAM 1" diameter patented rubber ball and socket system that has adjustment points at both ends of the double socket arm; this allowing for almost infinite adjustment and perfect viewing angles. The included Tab-Tite™ cradle includes a spring loaded back plate and custom support cups for 10" screen tablets WITH heavy duty cases. The spring loaded design makes it easy to load and unload your tablet, along with keeping it secure while on the go. Interchangeable cup ends are designed to optimize the functionality of your tablet, allowing access to audio jacks, usb, power, and other ports, your tablet can be used just as it was intended.
The RAM Tab-Tite™ cradle is compatible with the following tablets:
10" Screen Tablets with OtterBox® Defender cases
10" Screen Tablets with Gumdrop Drop Tech cases
10" Screen Tablets with Griffin Technology cases
10" Screen Tablets with Belkin cases
10" Screen Tablets with heavy duty cases

The Tab-Tite™ cradle is compatible with any tablet or reader that will fit the dimensions listed below. It is important to verify the dimensions of your tablet when determining the overall size.

Tab-Tite™ Cradle Dimensions:
Maximum Width = 8.12" (20,6 cm)
Length Range = 8.5" to 10.5" (21.6 tot 26.7)
Maximum Depth = 1.12" (2.8 cm)


Tab-Tite™ Cradle Features:
1. Support cups contain open slots to accommodate for tablets of various sizes
2. Back plate can support various size support cups
3. Spring loaded tension provides secure support for your tablet
4. Spring loaded cradle allows for quick release of your tablet
5. High strength materials maximize longevity of cradle
6. Full access to all ports
7. Lifetime warranty

Material:
High Strength Composite

Ball Size:
1" Rubber Ball "B" Size


Bekijk ook onze overige tablethouders voor in de auto.
Bekijk ook onze overige iPadhouders voor de auto.