RAM Mount
Zuignap iPad AIR/ iPad 2017 set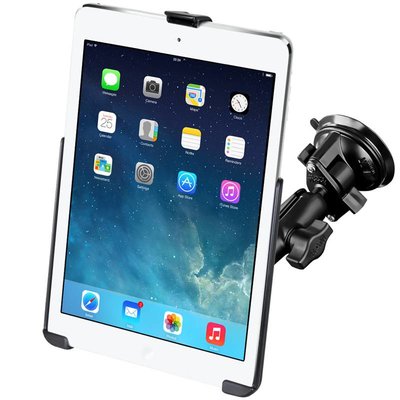 RAM-B-166-AP17U
Beschikbaarheid:

Op voorraad

Levertijd:

Besteld op werkdag voor 15:30, volgende dag geleverd
Zuignap, flexibele arm en iPad AIR Slide-in Cradle (geen hoes) ...
Meer informatie
Product omschrijving
Merk:

RAM Mount

Artikelnummer:

RAM-B-166-AP17U

Beschikbaarheid:

Op voorraad

Levertijd:

Besteld op werkdag voor 15:30, volgende dag geleverd
Deze iPadset kan de iPad gemakkelijk aan de autoruit bevestigt worden. De zuignap is ook geschikt voor andere gladde oppervlaktes b..v. tegels of polyester boot. Kan ook als muziekhouder op b.v gitaar bevestigd worden (zie foto's).
Met een draai aan de knop kan de kijkhoek aangepast worden. De iPad kan gemakkelijk uit de houder verwijderd worden. Stevig materiaal met o.a. aluminium klemhouder en kogels met rubber coating.


Set bestaat uit:

RAM-B-166U Universele zuignapbevestiging
The RAM-B-166U consists of a double socket arm, 3.25" suction cup twist lock base and diamond base adapter. The suction cup base is designed to have a strong hold on glass and non-porous plastic surfaces.
The mount is designed with a RAM 1" diameter patented rubber ball and socket system that has adjustment points, at both ends of the double socket arm; this allowing for almost infinite adjustment and perfect viewing angles. The hole pattern found on the diamond base adapter will connect to most RAM cradles
Material:
High Strength Composite & Powder Coated Marine Grade Aluminum (dus geen goedkoop plastic)
Ball Size:
1" Rubber "B" Ball Size 
Total height 13 cm
RAM heeft speciaal voor de iPad AIR een houder ontworpen die aan RAM mounting componenten bevestigd kan worden. De houder (cradle) omklemt de iPad AIR stevig zonder het slanke ontwerp van de iPad AIR te verstoren.
RAM-HOL-AP17U Slide-in houder iPad Air zonder hoes
The RAM-HOL-AP17U consists of a high strength composite cradle and patent pending roller design. The patent pending roller design allows for smooth placement and removal of the iPad, while keeping it secure while on the go. Compatible and interchangeable with a wide range of popular RAM Mounting products, this cradle is ready to compliment your iPad and become the most useful accessory in your vehicle.
Compatible Devices (WITHOUT CASE):
Apple iPad Air
Apple iPad Air 2
Apple iPad Pro 9.7
Apple iPad 2017 (5th Generation)
Apple iPad 2018 (6th Generation)
Specifications:
Docking Cradle: No
Locking Cradle: No
Fit's Tablet's WITH Cases: No
Fit's Tablet's WITHOUT Cases: Yes
Low Vibration Environment: Yes
High Vibration Environment: Yes
Cradle Features:
1. Compatible with various iPad cable/docking accessories
2. Patent pending roller design for super smooth placement and removal of the iPad
3. High strength materials maximize longevity of cradle
4. Full access to all ports
5. Lifetime warranty
6. Made in U.S.A.
Bekijk ook onze overige tablethouders voor in de auto.
Bekijk ook onze overige iPadhouders voor de auto.