RAM Mount
IntelliSkin™ Samsung Galaxy Tab Active2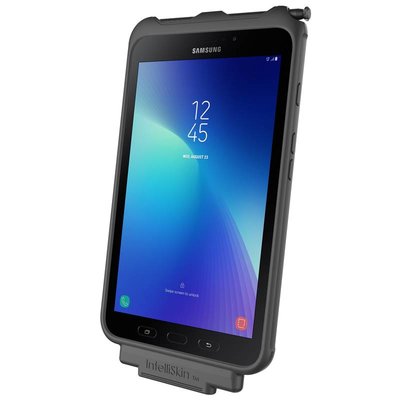 RAM-GDS-SKIN-SAM29U
Beschikbaarheid:

Op voorraad

Levertijd:

Besteld op werkdag voor 15:30, volgende dag geleverd
Product omschrijving
Merk:

RAM Mount

Artikelnummer:

RAM-GDS-SKIN-SAM29U

Beschikbaarheid:

Op voorraad

Levertijd:

Besteld op werkdag voor 15:30, volgende dag geleverd
Valbeschermende case voor de IntelliSkin™ Samsung Galaxy Tab Active2 tablet. met ingebouwde GDS connector voor snel docken en opladen. Bovendien voorkomt dit schade aan de ingebouwde connector van de tablet. Hiervoor zijn apart dockinghouders voor onderweg en op bureau te leveren. Zo kunt u een totaal oplossing samenstellen met uw tablet.

NB: alleen geschikt voor IntelliSkin™ Samsung Galaxy Tab Active2


GDS ™ technologie staat voor Global Docking System Technology. RAM®heeft een nieuwe standaard ontwikkeld door het creëren van een uniform platform voor het maken van verbinding tussen elk elektronisch apparaat en een dock voor stroom en data communicatie. RAM® heeft een platform gecreëerd voor compatibiliteit tussen meerdere apparaten en docking stations, waardoor voeding en data communicatie eenvoudig gerealiseerd kunnen worden.

IntelliSkin® is a protective sleeve featuring GDS Technology™ for the Samsung Galaxy Tab Active2. The IntelliSkin's integrated GDS® connector is molded directly into the skin, preventing damage to your device's charging port from repetitious docking. Eighteen molded ruggedized docking contacts on the exterior of the skin are also designed for repetitive docking in field applications. The IntelliSkin is compatible with a variety of GDS vehicle and desktop docking stations, allowing for charging and data syncing.


The IntelliSkin™ is a protective sleeve with GDS™ connection for the Samsung Galaxy Tab A 9.7 and 9.7 with S Pen featuring GDS™ Technology. The IntelliSkin™ features an integrated connector which is molded directly into the skin. This prevents damage to the connector on your device from repetitious docking and un-docking. On the exterior of the skin are molded ruggedized docking contacts designed for repetitive docking and undocking common in field applications. IntelliSkin™ offers a GDS™ connection to any GDS™ dock for port replication and charging. -
The IntelliSkin™ is a protective sleeve with GDS™ connection for the Samsung Galaxy Tab A 9.7 and 9.7 with S Pen featuring GDS™ Technology. The IntelliSkin™ features an integrated connector which is molded directly into the skin. This prevents damage to the connector on your device from repetitious docking and un-docking. On the exterior of the skin are molded ruggedized docking contacts designed for repetitive docking and undocking common in field applications. IntelliSkin™ offers a GDS™ connection to any GDS™ dock for port replication and charging. -