RAM Mount
X-Grip smartphone Tough-Clamp set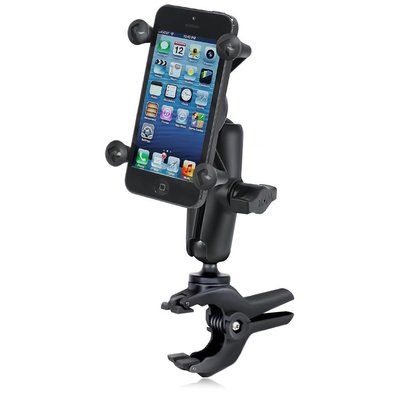 RAP-B-379-UN7U
Beschikbaarheid:

Op voorraad

Levertijd:

Besteld op werkdag voor 15:30, volgende dag geleverd
Kunststof small/medium knijpklem met X-Grip RAP-B-379-UN7U ...
Meer informatie
Product omschrijving
Merk:

RAM Mount

Artikelnummer:

RAP-B-379-UN7U

Beschikbaarheid:

Op voorraad

Levertijd:

Besteld op werkdag voor 15:30, volgende dag geleverd
Zeer handige klem met B-kogel. Stevige nylon kunststof klem met roestbestendig RVS binnenwerk. De klem kan vastgezet worden op platte vlakken, vierkante en ronde buizen. Ideaal voor tijdelijke montage van uw iPhone en smartphone. Dit is een complete set met composiet klemhouder RAP-B-201U), X-Grip smartphone houder en keuze uit Small of Medium Tough-Clamp (check de maten).
An extra pair of hands is something that almost everyone has wished for at some point. The RAM Tough-Clamp™ is the solution. This extremely versatile product from RAM has endless applications and will certainly become one of your most valued tools. The RAM Tough-Clamp™ includes a 1" ball which can be used to mount a variety of products utilizing RAM's vast selection of mounting solutions. Attach your GoPro Camera, Smartphone, RAM AQUA BOX® Pro or similar light weight device on almost any flat surfaces and square rails.

SMALL Clamping Dimensions:
1. Flat surfaces and square rails from 0" to 1" thick (max 2,5 cm)
2. Round rails from 0.25" to 0.75" OD (0,6 tot 1.9 cm)

MEDIUM Clamping Dimensions:
1. Flat surfaces and square rails from 0" to 1.75" (max. 4,4 cm) thick
2. Round rails from 0.75" to 1.125" OD (van 1,9  tot 2,9 cm)
RAM Medium Tough-Clamp

™

Base with Double Socket Arm & Universal X-Grip

™

Cell Phone Holder



Compatible Devices:


1. Apple iPhone (All Models)
2. Apple iPod touch (All Models)
3. Apple iPod (G1-G5)
4. Samsung GALAXY S4

The X-Grip

™

holder is compatible with handheld devices that will fit the dimensions listed below. It is important to verify the dimensions of your handheld device with a case/sleeve/skin when determining the overall size.

X-Grip

™

Holder Dimensions:
Minimum Width = 1.875"
Maximum Width = 3.25"
Depth = 0.875"



Material:


High Strength Composite

Bekijk ook onze andere telefoonhouders voor de fiets.